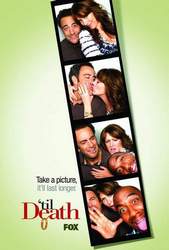 TV Info
---
Episode Premiere
January 04, 2007

Distributor
Fox TV

Genre
Comedy

Show Period
2006 - 2010

Production Company
Sony Pictures TV


Cast and Crew
---
Director
James Widdoes
Screenwriter
Cathy Yuspa, Josh Goldsmith
Main Cast
Additional Cast
Christine Dunford
Nicole Mandich
Jerry Lambert
Will Sasso as Russ
Chelsea Smith
Synopsis
---
Eddie, wearing a suit, is on the couch waiting for Joy. She comes down the stairs and mentions she used Eddie's razor, so he says he is going to throw out the razor. Eddie asks Joy if she is ready and she responds by showing off her revealing evening gown and Eddie responds by saying she looks beautiful. He starts to complain about going to Stan's 25th anniversary party and how he had to go to the tux shop early in the morning. Joy asks Eddie to get the directions to the party. As Eddie opens the invitation envelope, Joy realizes Eddie never sent the RSVP for the party. Joy is a little annoyed because it was Eddie's responsibility to which Eddie responds the he is the "Big Picture Guy" in the relationship. Eddie suggests they don't go to the party but Joy says they are going and that the present Eddie bought for Stan must be great. Eddie looks puzzled and Joy realizes that Eddie never bought a present.
Joy and Eddie get to the party and Eddie immediately notices that they are serving mini lamb chops. He tells Joy she is going to have to get the appetizers for him because he is too slow to get them for himself. Stan sees Eddie and comes over to him and Joy. He says he is surprised to see him since he never sent the RSVP card. Stan is upset so Stan's wife Vicki says they should talk to the party planner to see if they can handle more people. Eddie sees more mini lamb chops so Joy hands him her wrap, tells him to check it, and decides "to end the madness" and find him some mini lamb chops. Jeff shows up and Eddie immediately insults him by saying he looks like a ten-year old. Jeff one ups him by saying Eddie looks like James Bond with a glandular problem. Steph excitedly runs up to Jeff to inform him that there is a DJ at the party and people are dancing. Jeff is slightly sour on the idea but Steph says that he needs to conquer his fear of dancing and that he is a good dancer. She then says to Eddie that Jeff didn't even do a first dance at their wedding. She goes off to request a song. Jeff then tells Eddie that the problem is not his, it's because Steph "dances like a whore."
At a table in the banquet room, Joy is sitting with Russ. She asks him how the triplets are and he says "they're great" and that they are always screaming; he also says his wife gave him the night off so he is going to enjoy himself. Eddie sits down but Joy is mad that he didn't check her wrap. He says the coat check costs four dollars, so Joy says the wrap is important to her because her sister gave it to her and she doesn't want it to fall on the floor. Eddie smells the wrap and infers that the wrap couldn't be from her sister because it doesn't smell of booze. Cofeld arrives and when asked why his wife isn't there responds that she is either pregnant of has food poisoning.
Stan goes to the podium to make some toasts for the anniversary. Vicki and her father remark how Stan takes care of Vicki and Joy and Eddie become a little suspicious.
The DJ strikes up the music and Joy convinces Eddie to dance. While they are dancing, another dancing couple mentions how well Stan takes care of Vicki. Joy wants to find out what Stan is doing to take care of Vicki and wants Eddie to take care of her a little bit more, so he goes to check her wrap.
Meanwhile, Jeff and Steph come onto the dance floor. Steph starts to dance but Jeff won't dance. Steph gets mad that he won't dance so he says that he doesn't want to because he doesn't think her dancing is appropriate. Steph gets mad and finds someone else to dance with.
Eddie tries to find the wrap but it has disappeared. While Joy watches a slideshow of Stan and Vicki, Cofeld helps Eddie find the wrap. Eddie asks Cofeld to go ask the bartender if he has seen the wrap and along the way, he is accosted by Steph who forces him to dance. Joy confronts Vicki and asks her if she has a medical or psychological issue that makes Stan take care of her. Vicki says no and Joy feels sad that Eddie doesn't do the same for her. Also, Russ' wife calls crying so he has to go home.
Eddie finds Stan's niece playing with what he thinks is Joy's wrap, but she won't give it up so he grabs it from her. Stan sees him and yells at him. Joy comes in and says that the wrap isn't hers. She asks Eddie why he didn't check her wrap and she walks off in anger. A waiter walks by with a rolling tray and on the tray leg is the wrap. He runs into the kitchen to get the wrap but he rips it up as he takes it off the tray. Cofeld comes into the kitchen to hide for Steph. Stan comes into the kitchen to yell at Eddie for his behavior at the party. Eddie asks him what it means that he takes such great care of his wife. Stan says it's because he buys her jewelry and is a sexual dynamo and also because he is really nice to her everyday. A waiter comes in with mini lamb chops and tells Eddie that his wife told him to send the lamb chops over to him. Eddie feels bad that he doesn't do enough for his wife.
Later, Eddie takes the stage and tells the party how he wants to take better care of Joy. He thanks Joy for taking such good care of him and for the lamb chops. She asks if he saved her some but he didn't. He takes the remnants of the wrap and places them on her shoulders as they leave.
Finally, Jeff watches Steph dance so he gets on the dance floor to show her how she looks. While mimicking her, he gets into dancing and ends up having fun dancing with her.