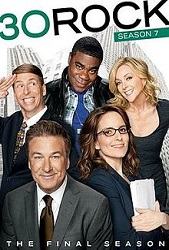 TV Info
---
Episode Premiere
March 18, 2010

Distributor
NBC

Genre
Comedy

Show Period
2006 - 2013

Production Company
Broadway Video, Little Stranger, NBC Universal


Cast and Crew
---
Main Cast
Additional Cast
Synopsis
---
Jack calls together a NBC town hall meeting to address the Kabletown buy-out. He takes a moment to remember Don Geiss and what he meant to the company. Jack opens the floor for questions and Jenna takes the microphone and remembers "Dan Goose" by singing "Amazing Grace."
Liz runs into Wesley at the movie theaters and keeps wondering why the universe is trying to push them together. After watching "Hot Tub Time Machine" and having two very different reviews of the movie, Liz and Wesley question their connection. They agree to return to Dr. Kaplan's office and ask him to help recreate their first meeting.
Dr. Kaplan refuses their request of putting each under anesthesia, again and recording what happens next. Liz and Wesley see the waiting room is filled with odd couples becoming affectionate with each other while under the influence of their anesthesia. Liz and Wesley acknowledge there is no connection and erase each other's numbers from their cell phones.
Jack sets up a meeting with an old friend who now works for Kabletown. He discovers Kabletown's main profits come from pay-per-view porn and the only reason they bought NBC was because it was considered a charitable contribution for a tax write-off.
While Liz is trying to head home, a sequence of events lead to Wesley crashing his "foot cycle" right in front of her. Wesley comes to the conclusion that the universe wants the two of them to settle for one another. Liz refuses to believe they are each other's "settling soul mates" and wishes him well.
Jack begins to question his role in Kabletown, a company that doesn't need ideas or innovation.. He realizes he doesn't have a role in the company and there will be no need to keep him around. He heads to the memorial for Don Geiss, where he shared a speech about what Don's mentoring meant to him.
When news leaks that Tracy has been one hundred percent faithful to Angie, he begins to fear for his image. Angie orders him to have an affair in order to save their marriage, but Tracy cannot find a woman desperate enough. Jenna says there has to be someone out there and Tracy ends up in Liz's office, ready to seduce her.
Liz stops Tracy from his seduction dance and explains to him that she will not sleep with him and he shouldn't want to cheat in the first place. Tracy listens as Liz tells him what he has with Angie is special and not a lot of people find that kind of love in their lives.
While remembering what Don Geiss meant to him, Jack comes up with a brilliant idea and immediately calls a meeting with the executives at Kabletown. Jack wants to bring porn to women. Only women's porn would be more about handsome men listening to their feelings. Jack's innovative idea is a hit and he's back in business!
Liz finds Wesley at a tasting for Scottish white wines and tells him she's refusing to settle. Wesley assures Liz that she'll be back in a short time and ready to become Mrs. Wesley Snipes. Liz still can't get over Wesley's last name is Snipes and walks away, for good. Liz goes home to watch her pay-per-view female porn.