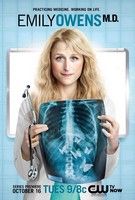 November 29, 2012 10:11:29
"
Emily Owens, M.D.
" is not surviving the chopping block on The CW. The network has decided that it will not order more episodes of the freshman drama, meaning that it doesn't get a full-season order and will not return for a second season as well.
Still, The CW plans to air all 13-ordered episodes of the medical dramedy starring
Mamie Gummer
and "
Smallville
" alum
Justin Hartley
. The show is expected to wrap up the production next week.
...
October 01, 2012 04:10:52
Fifteen days before premiering "
Emily Owens, M.D.
", The CW has made the first episode of its new series available for viewing pleasure online. It follows the titular character on her first day as a surgical intern at Denver Memorial Hospital.
While she is ready to leave her high school persona of geeky-girl-with-flop-sweats behind, Emily quickly realizes that a hospital is a lot like high school when she is faced with her medical school crush Will Collins and high school nemesis Cassandra Kopelson. Fellow intern Tyra Dupre makes it even clearer to Emily that the jocks have become orthopedic surgeons, the mean girls are in plastics and the rebels are in the ER.
...