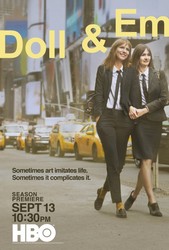 TV Info
---
Next Show
Eps 2.01:
Episode #7
September 13, 2015
Category
TV Series
Genre
Comedy
Seasons
2
Production Co.
King Bee Productions
Distributor
HBO
Official Site
click here

The Story
---
Doll & Em is an engaging half-hour, six-part HBO comedy series created and starring real-life best friends Emily Mortimer (The Newsroom) and Dolly Wells (Some Girls) as (slightly) fictionalized versions of themselves. When "Doll"'s love life implodes in London, she tearfully calls her longtime best pal "Em," a successful film actress making a new movie in Hollywood. Impulsively, Emily flies Dolly to LA to work as her personal assistant during the shoot. But instead of a healing, mutually beneficial arrangement, the reunion morphs into disaster, as Doll chafes under the demands of her "submissive" role, and Em comes to the realization that her best friend is not only inhibiting her acting, but might actually be plotting a competing career as an actress. Alternatively funny, insightful, satirical and poignant, the series sheds light on the vicissitudes of friendship and fame, while giving viewers a refreshing window into the art and artifice of modern filmmaking. Episodes include several tongue-in-cheek cameo turns from the likes of Bradley Cooper, Susan Sarandon, John Cusack, Chloe Sevigny and Andy Garcia, all playing themselves.
In the second season, the two write an off-Broadway play together in an effort to do something creative on equal footing.
The Stills
---