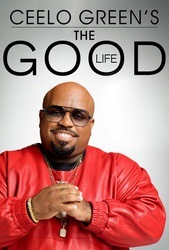 TV Info
---
Category
Reality TV
Genre
Reality-TV
Seasons
1
Production Co.
Emerald TV Productions
Distributor
TBS
Official Site
click here

The Story
---
CeeLo Green's The Good Life takes a tongue-in-cheek look behind-the-scenes as world-renowned recording artist CeeLo Green goes into the next stage of his career. The series focuses on CeeLo's creative partnership with his longtime best friends - Big Gipp, Khujo and T-Mo - as they prepare to bring their legendary hip-hop group Goodie Mob back to the world stage.
After a long hiatus and the explosion of CeeLo's solo music career, CeeLo wants to share his success with the best friends with whom he started. To enjoy this ride of a lifetime, all the guys have to do is navigate a demanding schedule, the perks and temptations of being at the top of the music game, and 20 years of history together, all while still keeping their friendship intact.
The Stills
---