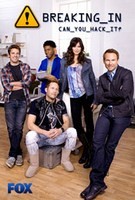 April 12, 2012 10:04:48
"
Breaking In
", which just returned with a second season last month, is on the verge of being axed once again. FOX has pulled the comedy series from the schedule for the rest of season, replacing it with encores of "
New Girl
" in its Tuesday, 9:30 P.M. slot.
The half-hour workplace comedy was supposed to return on April 24 after taking a two-week hiatus. The last three scheduled episodes, which have been yanked off the schedule, "will air at a later date."
...
January 12, 2011 03:01:20
At the same time they conducted TCA Press Tour, FOX released the first trailer to "
Breaking In
". The new series, which is created by Adam F. Goldberg ("
Fanboys
") and Seth Gordon ("
Four Christmases
"), has been picked up by the network for midseason premiere.
It is basically an offbeat half-hour workplace comedy about a high-tech security firm that takes extreme - and often questionable - measures to sell their protection services. The series centers on a team of uniquely skilled oddball geniuses hand-picked to work for a manipulative mastermind.
...