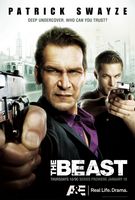 June 05, 2009 10:06:13
Mild ratings have prompted A&E to cancel "
The Beast
" after only 13 episodes airing. Although the network has released a statement that no decision has been made yet, a source close to the show told People, "There's no way it was going to happen without Patrick."
"The Beast" is a cop drama starring
Patrick Swayze
as FBI veteran training a rookie cop. The latest episode aired on April 23 but the networks has not made announcement whether there will be a second season. For one thing, Swayze is battling pancreatic cancer and was unable to promote the show effectively due to treatments such as chemotherapies. He shot the first season entirely in Chicago last summer but early this year, when the series was about to air, he was admitted to hospital due to pneumonia.
...
February 03, 2009 11:02:18
A deadly virus has infected a boy and Barker has promised him to find out who is responsible for it, all new in "
The Beast
". A security guard working at a jewelry store named Marcus is involved in a case involving millions of dollar and a deadly virus. Serving his duty as an old pal, Barker gets in the middle of it tagged by Ellis.
The young boy has been given the virus as a means to blackmail his mother, Susan who is the jewelry store's vice president. In a desperate attempt to cure her infected son, she steals precious jewels. Meanwhile, Barker and Ellis are tangled in a race against the clock to track down the blackmailers and figure out what kind of virus is roaming in the boy's body.
...