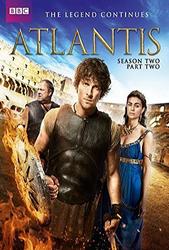 TV Info
---
Category
TV Series
Genre
Drama
Starring :
Jack Donnelly, Robert Emms,
Mark Addy
, Aiysha Hart, Juliet Stevenson, Ken Bones, Alexander Siddig, Sarah Parish, Jemima Rooper

November 28, 2013 02:11:25
BBC America has given a vote of confidence to "
Atlantis
". The cable channel has ordered a second season of the freshmen drama after airing only one episode of it. This, however, comes as no surprise since the show debuted to 838,000 viewers on November 23, thanks to the strong "
Doctor Who
" lead-in, marking the highest-rated series debut for the network's Supernatural Saturday block.
"Atlantis is off to a fantastic start and is the centerpiece of our Saturday nights for the next 12 weeks," says BBC America's senior vp programming Richard De Croce. "We're committed to bringing our viewers even more entertaining episodes inspired by Greek mythology from Howard and the talented team in season two."
...