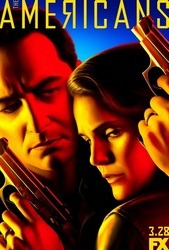 TV Info
---
Category
TV Series
Genre
Drama
Starring :
Keri Russell
,
Matthew Rhys
, Noah Emmerich, Holly Taylor, Keidrich Sellati, Maximiliano Hernandez, Susan Misner, Annet Mahendru, Alison Wright

February 22, 2013 09:02:37
FX has given a vote of confidence to its freshman "
The Americans
". After airing only 4 episodes of it, the network has picked up the show for a second season, so it's announced on Thursday, February 21.
" 'The Americans' has quickly established itself as a key part FX's acclaimed drama line-up," says John Landgraf, President and General Manager, FX Networks. "Executive Producers Joe Weisberg, Joel Fields and Graham Yost and their collaborators are telling riveting and deeply emotional stories and the performances of
Keri Russell
,
Matthew Rhys
, Noah Emmerich and the entire cast are simply outstanding."
...
December 26, 2012 09:12:27
FX is gearing up to debut a new series in 2013 and has released new promos for it. Titled "
The Americans
", it centers on the complex marriage of two KGB spies posing as Americans in suburban Washington DC shortly after Ronald Reagan is elected President.
Phillip and Elizabeth Jennings' arranged marriage grows more passionate and genuine by the day, but one of the new previews hints that Elizabeth never lets her guard down, even to her longtime partner. The other sneak peek, meanwhile, sees her recalling the time she was first assigned the mission.
...