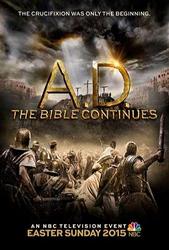 TV Info
---
Category
TV Series

Genre
Drama


December 18, 2013 02:12:45
"
The Bible
" sequel "A.D.: Beyond the Bible" has officially got a 12-episode series order from NBC. The miniseries, which will serve as a follow-up to the Mark Burnett and Roma Downey-created miniseries, is set to premiere on the network in 2015.
"Last year when Mark Burnett was launching 'The Bible' on cable, I told him, without hesitation, that if he wanted to tell more of the story, we'd love to do it at NBC," says Robert Greenblatt, chairman, NBC Entertainment. "We are firmly in the 'event' business and nothing has more event potential than A.D. as it continues immediately after the 'The Bible' ended."
...
July 02, 2013 11:07:08
History Channel's "
The Bible
" will get a sequel treatment on NBC. The network has picked up "A.D.: Beyond the Bible", a follow-up to the successful 10-part biblical drama from Mark Burnett and his wife Roma Downey.
"I followed the development process of 'The Bible' closely with Mark and knew that the story was far from over after Christ's Crucifixion," Bob Greenblatt, Chairman of NBC Entertainment, says in a statement. "In fact, what happened in the aftermath - which is essentially the beginning of Christianity - is utterly fascinating."
...