August 22, 2007 09:22:01 GMT
A new movie still for Robert Zemeckis-directed "Beowulf" has been posted online.

---
Building up anticipation for the November arrival of "" in theaters nationwide, Paramount Pictures has submitted another image for the animated fantasy feature on the net, which sure will prolong the amazement from moviegoers on the digitally enhanced technique the project applies.

In the meantime, the studio has also updated synopsis for the flick as:
"In a legendary time of heroes, the mighty warrior Beowulf battles the demon Grendel and incurs the hellish wrath of the beastís ruthlessly seductive mother. Their epic clash forges the timeless legend of Beowulf."

Described by scribe Neil Gaiman to be a "cheerfully violent and strange take on the Beowulf legend", "Beowulf" is an adaptation of the Old English epic poem of the same name directed by Robert Zemeckis with an all-star cast consisting of , , , and , among others. While some of the film remains true to the original poem, other plot elements, such as those surrounding Grendel's mother, on the other hand, deviate from the material.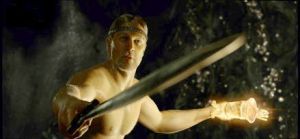 © AceShowbiz.com
---
---
---