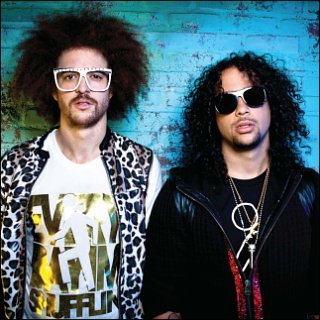 Profile
---
Famous as :
Electro-hop duo

Birth Date :
2006

Birth Place :
Los Angeles, California, USA

Claim to fame :
Single "I'm in Miami, B***h" (2009)


Biography
---
by AceShowbiz.com
---
When it comes to party, LMFAO have the knack for it Stefan Kendal Gordy and Skyler Husten Gordy had been experimental Djs before they decided to go professional. Their hunt for a moniker ended up with an iChat text from their grandmother who responded to their choice of name, Sexy Dudes. Grandma Godfoot replied, "LMFAO".

Formed officially in Los Angeles in 2006, Redfoo and SkyBlu are the youngest son and grandson of Motown record label founder, Berry Gordy. Together they created a sound that can be commonly associated to hard partying in their studio apartment. Their trip to Miami in 2007 gave them inspiration to their first single "I'm in Miami Bitch", which was released on MySpace in December 2008.

Prior to that the Hip Hop duo released an EP titled "Party Rock", which is also the name of their clothing line, on July 1, 2008 under their own label. It enjoyed more than 2 million plays on the MySpace page. "I'm in Miami Bitch" hit the spot on indie fans' hearts, climbing to number 51 on Billboard Hot 100 and number 37 in Canada.

The first full-length album was then released physically and digitally by Interscope Records in July 2009. Containing "Miami Bitch", "La La La" and other hits, the album surprisingly was nominated at the 52nd Grammy Awards for Best Electronic/Dance Album. It also charted at number 33 on Hot 200 and number 2 on Dance chart.

Their fame went higher when they were featured on David Guetta's international hit "Gettin' Over You" in 2010. In the same year, they began working on their second album which is due to be released on June 21, 2011 under the title "Sorry for Party Rocking".

The first single "Party Rock Anthem" features singer Lauren Bennett and producer GoonRock. It went number one in eight countries and hit number 3 in both U.S. and Canada. It was soon followed with second single "Champange Showers" which features British artist Natalia Kills. In order to support the upcoming release, LMFAO traveled to Asia for a tour.

"We want to make the earth a party planet," Sky Blu says. "Our goal is to package this energy up and to spread it all over the face of the world," Redfoo adds. "We want to throw the biggest party ever where everyone comes and has a blast, it gets us off. We're trying to be the ...