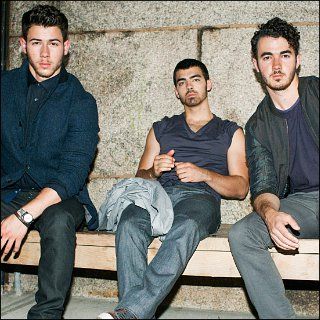 Profile
---
Famous as :
Pop/rock band
Birth Name :
Sons of Jonas
Birth Date :
2005
Birth Place :
New Jersey, USA
Claim to fame :
Single "
Year 3000
" (2006)

Having their own fashion line called Jonas, which is aimed for tween girls.
Ranked 1st on Forbes' list of Breakout Stars of 2008.
Making donations of a few old coats and a $10,000 check during their appearance on "Good Morning America" on Black Friday, November 28, 2008.
Donating the outfits they wore on the cover of their hit album "A Little Bit Longer" to the Rock and Roll Hall of Fame and Museum in Cleveland, Ohio on August 22, 2008.
Having their wax statues unveiled at Madame Tussauds in Washington D.C. on August 18, 2008.
Teaming up with Bayer Diabetes Care organization in August 2008 to raise awareness among young people everywhere about proper diabetes care.
Made Forbes' annual Celebrity 100 list in June 2008, being ranked at No. 89.
Signed their first ever book deal with Disney Book Group in May 2008 to release an exclusive behind-the-scenes book of them on tour, slated to hit the market in fall 2008.
Song 'Goodnight and Goodbye' from second album was inspired by Nick's years on Broadway in Les Miserables and Beauty and the Beast.
Appeared in commercials for baby bottle pops in 2007, singing the jingle.
'Jonas Brothers' is the first album to be issued in the CDVU+ format where its packaging features recycled paper and the CD unlocks photos, lyrics and liner notes when inserted in a computer.
Covered and released "Year 3000" in more radio-friendly towards teenagers and kids version in 2006.
'Mandy' was inspired by a family friend named Mandy who was taught sign language by their mother so she could help the hearing impaired.
Said that their influence comes from My Chemical Romance, Backstreet Boys and Weird Al Yankovic.