The 'Red Sparrow' star reminds everyone that whatever she wears is her choice and 'creating controversy over silly innocuous things' is 'ridiculous.'
No one can make
Jennifer Lawrence
cover up despite the freezing weather if that what she wants. The Academy Award-winning actress has been criticized for her choice of outfit at a recent photo call for her new movie "
Red Sparrow
", but she has a perfect response to silence them all.
The 27-year-old star wore a black Versace dress with a very plunging neckline and a thigh-high slit while posing for photographers on a rooftop The Corinthia Hotel on Tuesday, February 20 in London. She was joined by director Francis Lawrence as well as castmates
Matthias Schoenaerts
,
Joel Edgerton
and
Jeremy Irons
who all bundled up in jackets and layered clothes as they stood outside.
One Twitter user called these images "quietly depressing," while others claimed it was sexist to have the actress wear "a small amount of fabric some might call a dress" amid cold weather.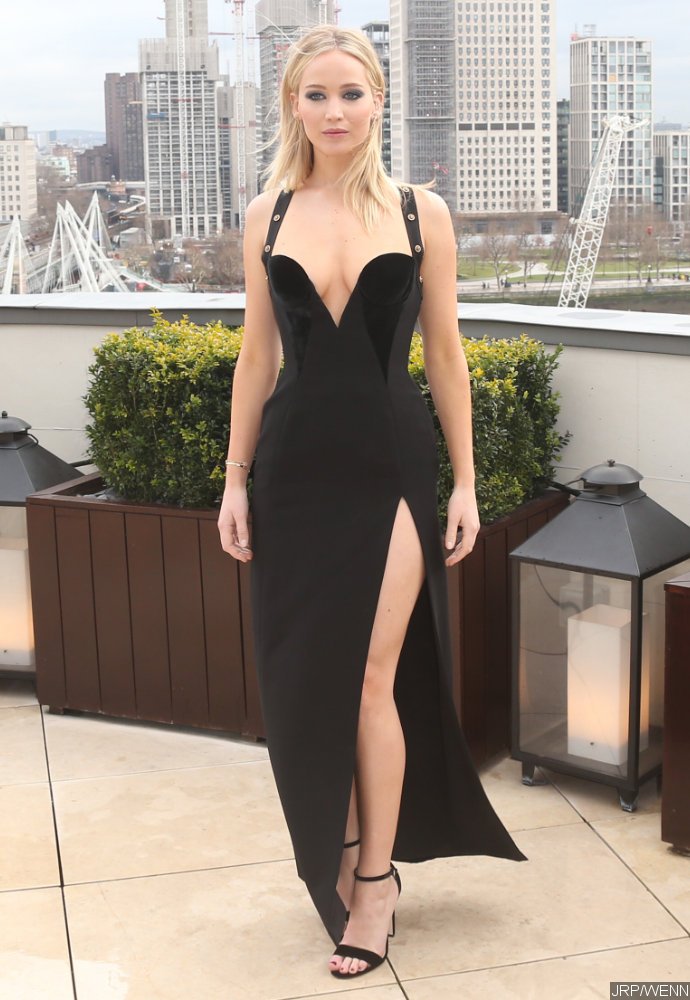 Some media outlets stirred up the debate with headlines like, "Why Jennifer Lawrence's Dress Shows Sexism in Hollywood Persists Despite #TimesUp," and "Jennifer Lawrence Shivers in PLUNGING Dress With Gaping Thigh-Split That Looks Just Like Elizabeth Hurley's Iconic Versace Gown."
Responding to the debate, Lawrence took to her Facebook page to hit back at those critics. "Wow. I don't really know where to get started on this 'Jennifer Lawrence wearing a revealing dress in the cold' controversy," she began her post. "This is not only utterly ridiculous, I am extremely offended."
She continued, "That Versace dress was fabulous, you think I'm going to cover that gorgeous dress up with a coat and a scarf? I was outside for 5 minutes. I would have stood in the snow for that dress because I love fashion and that was my choice."
"This is sexist, this is ridiculous, this is not feminism," she added. "Over- reacting about everything someone says or does, creating controversy over silly innocuous things such as what I choose to wear or not wear, is not moving us forward. It's creating silly distractions from real issues. Get a grip people." She went on reminding everyone, "Everything you see me wear is my choice. And if I want to be cold THATS MY CHOICE TOO!"
Speaking to
Daily Mail
during an interview for the upcoming movie, Lawrence repeated her statement. "I wasn't going to cover it up with a coat or why would I wear it? It was Versace," she said. "I was outside for five minutes and if I choose to be cold then I choose to be cold."
"I mean, nobody told me I couldn't wear a coat. In any case I didn't want to wear a coat at the photoshoot. I wore a coat to the photoshoot. But why hide the dress for the photographers? And nobody can tell me what to wear and not what to wear. It's my choice to wear a dress that I feel fabulous in," she set things straight.
She also stressed, "Feminism is equality. It's social, political and economic equality." She added, "It does not mean I have to wear a coat when you think I should. It does not mean I shouldn't get nude when you think I shouldn't. I'm a grown-a** woman and I can wear or not wear whatever I please."
The Katniss Everdeen in "
The Hunger Games
" film series jokingly added, "I'll wear a bikini next time but, OK, I might wear a snowsuit over it if that will make them happy and stop people complaining. But just so we're clear, if I don't want to wear a coat then I'm not going to wear a goddamned coat."