The daughter of Prince Andrew will marry Jack, whom she has been dating for seven years, in the fall, Buckingham Palace has announced.
The British royal family will have two weddings this year. Princess Eugenie, the daughter of Prince Andrew and his ex-wife Duchess Sarah Ferguson, announced her engagement to Jack Brooksbank on Monday, January 22.
Buckingham Palace said the couple would wed in the fall. The wedding will take place at St. George's Chapel in Windsor, the same place where Eugenie's cousin Prince Harry will marry his fiancee
Meghan Markle
in May.
Her parents have reacted to the good news. Ferguson posted on Twitter a picture of her daughter with her soon-to-be son-in-law and wrote on it, A total embrace of goodness and joy. We love Jack and I am so excited to have a son, a brother and a best friend. Eugenie is one of the finest people I know and so together it will be pure harmony." She also wrote in the caption, "Total joy!!"
Total joy!! #engagement @TheDukeOfYork pic.twitter.com/Th58YD0rHa

— Sarah Ferguson (@SarahTheDuchess) January 22, 2018
Andrew said, "Jack is an absolutely outstanding young man and Eugenie and he have got to know each other over a number of years, and I'm really thrilled for them."
In their first photos together after announcing their engagement, Eugenie flaunted her engagement ring, a pink sapphire ring that looks like the one her mother received from Prince Andrew prior to their marriage.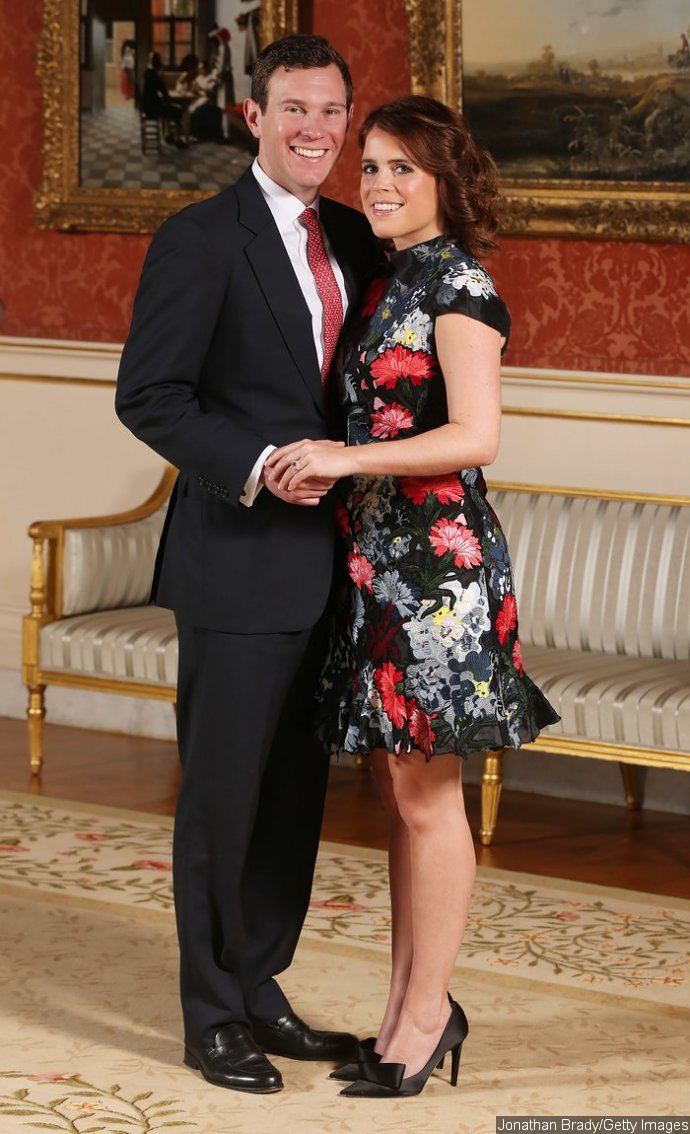 Speaking to BBC 1's Matt Baker for a televised interview, the couple shared details of the romantic proposal. Jack, 31, proposed to Eugenie during a trip to Nicaragua earlier this month without a ring. He explained that he "didn't want to do anything until Eugenie had signed off on it," but he had selected a padparadscha sapphire stone ahead of to the proposal.
"The lake was so beautiful," Eugenie gushed. "The light was just a special light I had never seen. I actually said, 'This is an incredible moment,' and then he popped the question, which was really surprising even though we have been together seven years."
"I was over the moon. [It was a] complete surprise. But it was the perfect moment, we couldn't be happier," Jack added. "It was amazing. I love Eugenie so much, and we're very happy." He got down on one knee for the proposal and when they returned to the U.K., they designed the ring together.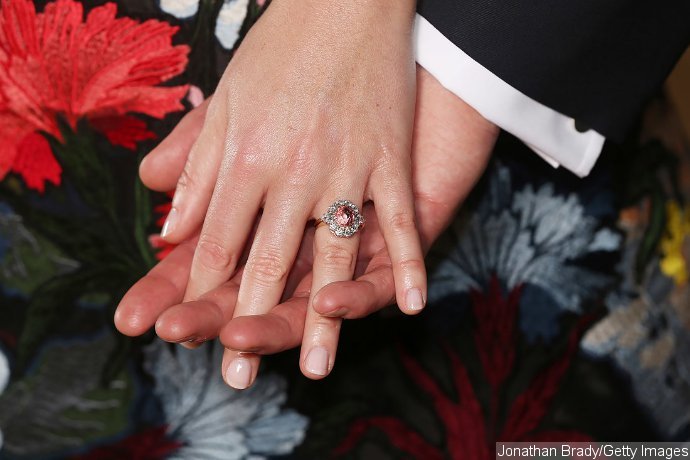 The princess shared how her grandmother, Queen Elizabeth II, reacted to her engagement. "Granny actually knew right at the beginning [of the engagement]. She was very happy, as was my grandfather [Prince Philip]," she said.
The couple met seven years ago in Verbier, Switzerland. Eugenie said it was "love at first sight" - and Jack agreed. "We met when I was 20, he was 24," said the 27-year-old princess. "[We] fell in love. We have the same passions and drive for life."
Jack, who is a brand ambassador for Casamigos tequila's expansion into Britain and Europe, said of joining the royal family, "[It's] very, very special to be a part of your family now," but added that they would continue on being "just Jack and Euge, I suppose."
Eugenie, who is a director at the Hauser & Wirth art galleries, also gushed about Jack's family, "They're really wonderful people. Seven years, you get to know people pretty well. They're already sort of parents and brother."