A photo has surfaced showing the professional boxer grabbing a stripper, who sported a one-piece bikini similar to the one worn by Ora last week, by the bottom, following that 'date night' fiasco.
Following his recent controversial "date night" photos with
Rita Ora
, a photo of
Conor McGregor
wild-partying with a stripper has surfaced online. To make it worse, the woman in the just-emerged pic happened to sport a similar ensemble to the one worn by Ora on her 27th birthday late last month.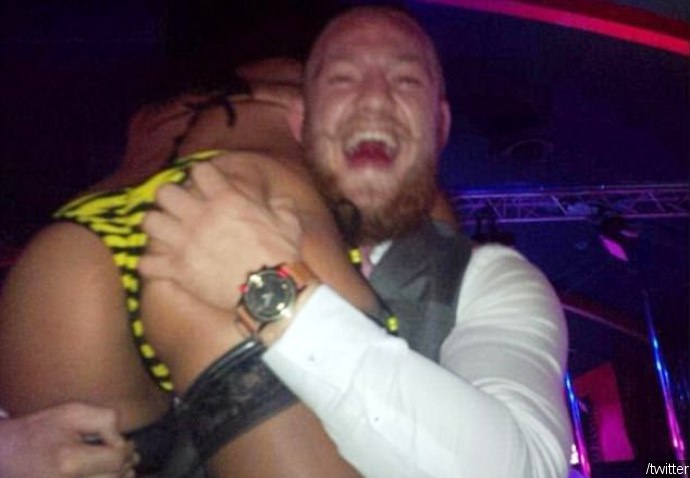 The photo has surfaced in the midst of a controversy surrounding McGregor's relationship with Ora. The "Love Song" singer is still criticized on Twitter for posting a couple of photos featuring her and the 29-year-old professional boxer sitting close to each other when the two attended the recent British Fashion Awards held in London.
Her post, which she captioned with "Date night @TheNotoriousMMA" was dimmed "disrespectful" to McGregor's childhood sweetheart Ded Devlin, whom he's been dating for nearly a decade. The "Black Widow" hitmaker has also been
accused of being a "homewrecker"
for trying to "steal" McGregor from his girlfriend. And as people continue to slam the songstress after she posted the cozy photos, the photo featuring the UFC fighter partying with the stripper in Las Vegas back in 2013 is now swirling around the web.
Both Ora and McGregor have not addressed the rumor surrounding the status of their relationship. McGregor and his longtime girlfriend Devlin welcomed their first child together, whom they named Conor Jack McGregor Jr., in May. The boxer recently admitted that he's incredibly thankful to his baby mama for sticking by him through everything.
"My girlfriend worked very hard throughout the years and stuck by me when I had essentially absolutely nothing," he said. "I only had a dream that I was telling her." McGregor went on saying, "For me to be able to take her out of work, give her everything she's ever wanted and to travel the world with her fills me with pride. It keeps me going."