The now-deleted photo sees Emma Dumont, who portrays Polaris, sporting green streaks in the back of her hair, lending itself to Polaris and her bright emerald locks in the comics.
Emma Dumont
has shared two behind-the-scenes photos of FOX's upcoming "X-Men" series "
The Gifted
". One of the photos may please fans who previously were disappointed over the fact that Emma's character on the series, Lorna Dane a.k.a. Polaris, seemingly lacks an iconic feature of her comics counterpart, her green locks.
The first photo features the pale side profile of Emma's Polaris. Her hair looks drenched by the rain as she stares at nowhere. She sports heavy dark eye makeup, which suits Polaris' character in the original comic books.
The second photo, which is seemingly now deleted, features the actress placing her arm around fellow cast member
Jamie Chung
(Blink) while facing back the camera. "Mutant sisters," so she captions the photo. The most interesting part from the bright-lit photo is the visible green streaks in the back of Emma's hair. The photo suggests that the series will stay faithful to the original source as Emma will be sporting Polaris' iconic emerald locks on the series, casting away fans' worries.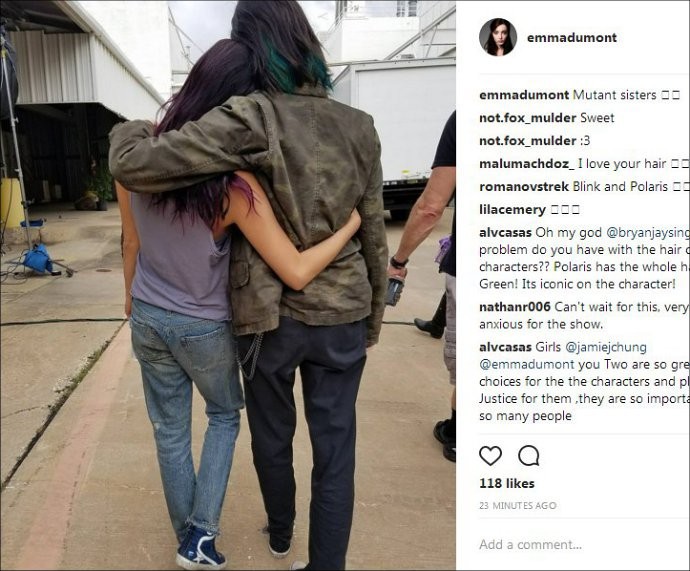 Directed by Bryan Singer, "The Gifted" follows a human couple, Reed (
Stephen Moyer
) and Caitlyn Stucker (
Amy Acker
), who discover that their children are mutants. They are later forced to go on the run from the government, joining an underground network of mutants and must fight for their survival.
Natalie Alyn Lind
and Percy Hynes White star as Reed and Caitlyn's on-screen mutant kids, Lauren and Andy respectively.
"The Gifted" will premiere on FOX this fall.