In this third part, AceShowbiz highlights the record-breaking opening week of 'Deathly Hallows 2', the wedding of Kim Kardashian and Kris Humphries, and the first-ever No. 1 album of Tony Bennett.
Moving from the second to the third quarter of its 2011 Kaleidoscope, AceShowbiz took a stroll down the memory lane from July to September. In this summer blockbuster season, some of the big movies of the year like "
Transformers: Dark of the Moon
" and "
Harry Potter and the Deathly Hallows: Part II
" made a grand entrance on the box office with record-breaking number of ticket sales, but it was the latter that outshone the others by scoring multiple records in the States on its opening week.
In the celebrity news, as usual, there was no shortage of the glitz and blitz, but it was the wedding of
Kim Kardashian
and
Kris Humphries
which dominated the three months leading to the fall of 2011. In music, one of the highlighted moments was when
Tony Bennett
finally had his first-ever No. 1 album. In TV, meanwhile, it's worth to be noted that the networks were busy with axing sleeper shows to give rooms for more promising newbies, and renewing those which maintain steady pace in ratings.
JULY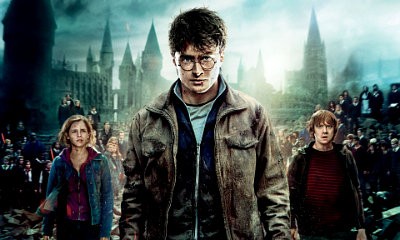 Harry Potter bid farewell to his loyal devotees in "
Harry Potter and the Deathly Hallows: Part II
" with a triumph. At two hours and ten minutes, the David Yates-directed movie became the shortest of all the "Harry Potter" flicks, yet it's the most successful one. In the U.S., it set a box office record for midnight showings with $43.5 million, surpassing the $30 million mark set by "
The Twilight Saga's Eclipse
". On its single-day-gross, it collected $92.1 million, topping the $72.7 million mark by "
The Twilight Saga's New Moon
". To top them all, it pulled the biggest opening weekend ever with $168.6 million, smashing the previous record held by "
The Dark Knight
" ($158.4 million).
AUGUST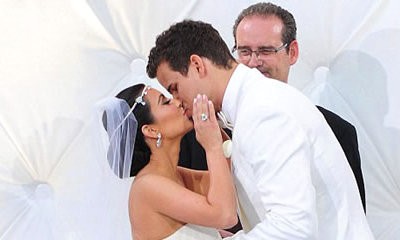 Since
Kim Kardashian
announced her engagement to
Kris Humphries
in May, people had been eagerly waiting for the two to walk down the aisle. How would their nuptials be like? When the D-Day finally came three months later, they didn't disappoint the public as Kim threw a lavish ceremony complete with a crystal-encrusted cross at the altar. 72 days afterwards, however, the couple turned into a media mockery after Kim filed for divorce from Kris. From "
Saturday Night Live
" troupe to talk-show hosts like
Jimmy Kimmel
, they had raced to ridicule this so-called fairytale wedding.
Other notable events of the month:
Aug 02: Kings of Leon scrapped their U.S. tour to give Caleb Followill time to get help in rehab.
Aug 03: Former NFL star Bubba Smith, who was known for his role in "Police Academy" movies, was found dead at his home.
Aug 04: Kate Middleton and Lady GaGa were listed among Vanity Fair's International Best-Dressed List.
Aug 04: Rowan Atkinson walked away with minor injury after crashing his super car in Haddon, Cambridgeshire.
Aug 05: Anthony Quinn's actor son, Francesco Quinn, died of heart attack while running with his son on the street near his home.
Aug 05: The first look at Anne Hathaway as Catwoman in "The Dark Knight Rises" was unleashed.
Aug 05: "Jersey Shore" season 4 scored most-watched premiere for MTV.
Aug 06: "Harry Potter and the Deathly Hallows Part II" ruled movie winner list of 2011 Teen Choice Awards.
Aug 06: Taylor Swift led Teen Choice Awards in music winner list by grabbing 5 surfboards.
Aug 07: ABC officially announced "Desperate Housewives" cancellation.
Aug 07: Big Boi was charged with one count of drug possession and three counts of possession of a controlled substance.
Aug 07: Kelly Rowland suffered an embarrassing mishap with double nip slip.
Aug 08: "The Hunger Games" announced its official release date and its sequel "Catching Fire".
Aug 09: Kim Kardashian's mother Kris Jenner and step-father Bruce Jenner renewed their wedding vows.
Aug 10: Rebecca Black was removed from her school due to constant harassment from her classmates.
Aug 10: Samantha Ronson was charged with driving under the influence.
Aug 10: "Harry Potter and the Deathly Hallows Part II" was declared the biggest movie in 2011 and the third on all-time chart.
Aug 10: Nicki Minaj made history on Hot 100 with "Super Bass".
Aug 10: Tina Fey gave birth to her second daughter with composer husband Jeffrey Richmond.
Aug 11: "The View" co-host Joy Behar finally tied the knot with her boyfriend of 29 years.
Aug 11: Mark-Paul Gosselaar got engaged to his girlfriend less than three months after finalizing his divorce from wife of 15 years.
Aug 11: Former Warrant lead singer Jani Lane was found dead at the age of 47.
Aug 11: "Lopez Tonight" ended its run after two seasons.
Aug 12: Heather Locklear announced her engagement to longtime boyfriend Jack Wagner.
Aug 13: Hours after announcing engagement, Tara Reid tied the knot with Zack Kehayov.
Aug 14: Hilary Duff announced she and husband Mike Comrie were expecting their first child together.
Aug 14: Jessica Alba revealed that she and husband Cash Warren had welcomed their second child together.
Aug 14: The stage where Sugarland were supposed to perform collapsed, killing at least five people.
Aug 15: Russell, the estranged husband of "The Real Housewives of Beverly Hills" star Taylor Armstrong, was found dead hanging in his bedroom.
Aug 16: Miley Cyrus to be inducted into the Celebrity Bowling Hall of Fame.
Aug 16: French actor Gerard Depardieu got kicked out of an Air France flight after taking a leak in front of other passengers.
Aug 16: Lady GaGa revealed her many faces in "You and I" music video.
Aug 18: Katy Perry was tied with Michael Jackson by scoring five No. 1 singles from one album.
Aug 19: The first trailer for "Ghost Rider: Spirit of Vengeance" was unleashed.
Aug 20: Kim Kardashian wed Kris Humphries in a lavish wedding.
Aug 21: Jennifer Garner and Ben Affleck announced they were expecting their third child together.
Aug 22: Nickolas Ashford, the one-half of successful Motown songwriter duo Ashford & Simpson, passed away at the age of 69 after a battle with throat cancer.
Aug 22: Kate Winslet saved Richard Branson's mother during a house fire on Necker Island.
Aug 22: Former "Little House on the Prairie" star Melissa Gilbert filed for divorce from her actor husband, Bruce Boxleitner.
Aug 23: Will Smith and wife Jada Pinkett Smith denied split rumors.
Aug 24: Amy Winehouse scored best-selling album of the century.
Aug 25: Lady GaGa reigned over Oprah Winfrey on Forbes' annual list of the 100 Most Powerful Women.
Aug 25: "Treme" star Michael Showers, whose body was found floating on Mississippi River, was confirmed to have died of drowning.
Aug 27: Adele got the most statuettes at 2011 MTV Video Music Awards.
Aug 28: 2011 MTV Video Music Awards pulled the biggest audience ever for the network.
Aug 28: Beyonce Knowles announced she was expecting her first child at 2011 MTV Video Music Awards.
Aug 30: Daryl Hannah was among 100 people arrested during a sit-in protest in front of the White House.
Aug 30: Ed O'Neill was honored with a star on the Hollywood Walk of Fame.
SEPTEMBER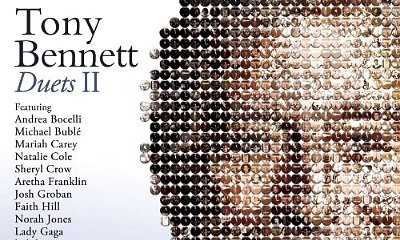 It's hard to believe that after almost six decades in music industry, more than sixty albums in the stores, and over 30 charting singles, never did
Tony Bennett
debut at no. 1 on Billboard Hot 200. The anomaly, however, was corrected on the fourth week of September 2011 when his album, "
Tony Bennett: Duets II
", bowed at the penthouse of the weekly rundown. The jazz crooner claimed his throne for the first time ever by selling 179,000 copies of the CD. At the age of 85, he became the oldest living legend to top the chart after
Bob Dylan
made headline when he got his first No. 1 album at the age of 67 with his 2009's "
Together Through Life
".
Other notable events of the month:
Sept 04: Lauren Bush tied the knot with David Lauren.
Sept 05: MDA Telethon posted best gain since 2008 even without Jerry Lewis.
Sept 05: Soulja Boy caused outcry on the web for rapping "F**k the Troop" lyrics.
Sept 06: U2 were named Band of the Year by GQ.
Sept 07: Reese Witherspoon was rushed to hospital after being struck by a car while jogging.
Sept 08: Leonardo DiCaprio was mistaken for a robber in an Australian jewelry shop.
Sept 08: Tinie Tempah won the bidding for the very first pair of the Nike Air Mag shoes that Michael J. Fox's wore in "Back to the Future II".
Sept 07: Nick Jonas was officially announced to replace Daniel Radcliffe on "How to Succeed in Business Without Really Trying".
Sept 08: "Les Miserables" secured Russell Crowe as the lead actor and set December 2012 as the release date.
Sept 10: Ali Lohan denied undergoing plastic surgery.
Sept 11: Andy Whitfield passed away after a long battle with non-Hodgkin lymphoma.
Sept 11: "Entourage" ended its run after 8 seasons.
Sept 12: Miss Angola Leila Lopes was crowned as Miss Universe.
Sept 13: January Jones gave birth to her first child Xander Dane Jones.
Sept 13: Kirstie Alley made her runway debut at the age of 60 at Zang Toi's fashion show.
Sept 14: Scarlett Johansson's naked pictures leaked.
Sept 15: Heidi Klum topped Internet security firm McAfee's annual list of Most Dangerous Celebrity in Cyberspace.
Sept 18: "Modern Family" and "Downton Abbey" won big at 2011 Primetime Emmy Awards.
Sept 19: Dolores Hope, the widow of Bob Hope, died of natural causes at the age of 102.
Sept 20: Lea Michele and her Broadway actor boyfriend Theo Stockman decided to end their romance.
Sept 20: Ashton Kutcher's debut on "Two and a Half Men" broke record in ratings.
Sept 20: Justin Lin left "Terminator 5" to direct "Fast and Furious 6".
Sept 20: Charlie Sheen Roast set rating record for Comedy Central.
Sept 21: Michaele Salahi broke her silence over her affair with Journey guitarist Neal Schon.
Sept 22: "Army Wives" star Kim Delaney embarrassed herself for making a drunken speech at the Liberty Medal Award presentation.
Sept 23: After 11 years of marriage, James Marsden's Lisa Linde filed for divorce from the "X-Men" actor.
Sept 23: "All My Children" ended its run on TV after 41 years.
Sept 25: Kelly Clarkson premiered music video for her first single "Mr. know It All".
Sept 25: Kat Von D and Jesse James called it quits again after about a month of reconciliation.
Sept 28: After almost 60 years in music industry, 85-year-old Tony Bennett finally scored his first-ever No. 1 album on Billboard Hot 200.
Sept 28: Ashton Kutcher was entangled in an affair with another woman on his sixth wedding anniversary with Demi Moore.
Sept 30: Alyssa Milano gave a first look at her first son with husband David Bugliari.
« Back to Part 1
|
« Back to Part 2 | Next to Part 4»