Some like Dana Delany's new starring vehicle 'Body of Proof' will debut this Fall while some like Matthew Perry's new comedy 'Mr. Sunshine' is kept for Midseason.
ABC Entertainment Group president Stephen McPherson appeared before advertisers on Tuesday, May 18 at Lincoln Center to make a presentation of its new series. The Alphabet has picked 10 newbies but only some of them will be debuted this Fall. The rest, along with "
V
" and "
Supernanny
" are reserved for Midseason.
"Our passion for great storytelling is at the core of everything we do," said McPherson in the press release. "Finding and supporting writers, directors, producers and actors who share that passion is critical to our success. Our shows are the product of these collaborations, and we are thrilled to add 10 new series to our schedule next year."
The network has let go one of its strongest programs, "
Lost
", which is coming to an end this Sunday, May 23. In order to balance between the drama, comedy and sci-fi, the network has picked up "
No Ordinary Family
" to fill the Tuesday slot.
Other new series coming this Fall would be "
Body of Proof
", "Better Together", "
The Whole Truth
", "
Secret Millionaire
", "
My Generation
", and "
Detroit 1-8-7
". Coming Midseason meanwhile, are "
Mr. Sunshine
" and "
Happy Endings
".
Body of Proof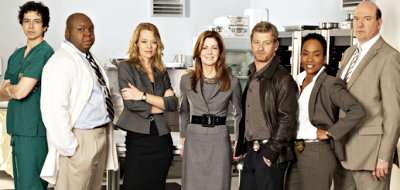 Dr. Megan Hunt (
Dana Delany
) was in a class of her own, a brilliant neurosurgeon at the top of her game. But her world is turned upside down when a devastating car accident puts an end to her time in the operating room.
Happy Endings
For years, perfect couple Dave (
Zachary Knighton
) and Alex (
Elisha Cuthbert
) drew their friends in and held them together. Now that they've split, does this group have the stuff to stay together? Or do Max (Adam Pally), Brad (Damon Wayans, Jr.), Jane (
Eliza Coupe
) and Penny (
Casey Wilson
) have to choose sides?
Off the Map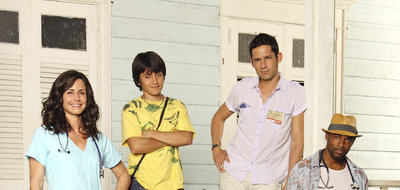 Welcome to "la ciudad de las estrellas" (the city of stars), a tiny town in the South American jungle which has one understaffed, under-stocked medical clinic. That's where idealistic young Dr. Lily Brenner (
Caroline Dhavernas
) just landed, along with fellow doctors Mina Minard (
Mamie Gummer
) and Manny Diaz (Enrique Murciano).
Mr. Sunshine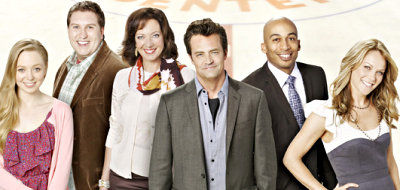 Matthew Perry
stars as Ben Donovan, the self-involved manager of a second-rate San Diego sports arena who begins to re-evaluate his life on his 40th birthday. Working alongside him is his boss and arena owner, Crystal (
Allison Janney
) - attractive, powerful and highly erratic.
No Ordinary Family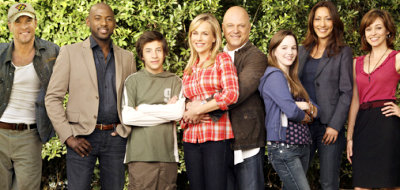 During a family vacation set up by Jim (
Michael Chiklis
) in an attempt to reconnect, their plane crashes into the Amazon River. But this is where the fun starts for the Powells, as they soon discover that something's not quite right. Each of them now possesses unique and distinct superpowers.
More sneak peeks of the new series are available at ABC's
YouTube channel
.