Before rushing down to the theaters to see the new 'Hellboy' movie, fans and movie lovers alike can learn more about the heroes, villains and creatures of Guillermo del Toro's latest action fantasy.
On July 11, Universal Pictures will be presenting movie lovers and Dark Horse Comics' fans with "
Hellboy II: The Golden Army
", the sequel to the 2004 supernatural action-thriller "
Hellboy
". Bringing the big red and gentle demon to the big screen for his second live action appearance, the studio have promised to deliver a more action-packed and badder movie and have teased fans with numerous footages from the movie.
To most people who have seen "Hellboy", the big red creature and those around him probably feel familiar. Still, like many other sequel movies, in "The Golden Army", he will be facing a band of new enemies. To refresh the fans' memory as well as to provide knowledge about the old and new characters in "The Golden Army", we have compiled the main characters of the heroes, the baddies and the creatures.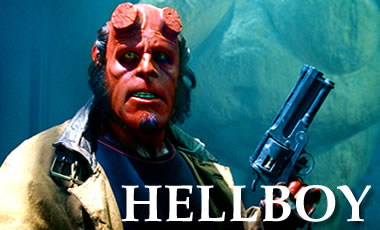 Having a striking figure at 6'6", Hellboy is the central character in this sequel. A tamed demon whose real name is Anung un Rama, this massive red-skinned creature has a superhuman strength and immunity to fire. Though prefers to fight the supernatural using his normal-sized left hand, he has one signature trait that differs him from any other superheroes, his indestructible right hand known as 'Right Hand of Doom'. Said to be made from red stone, this particular hand won't feel any pain and hold the key to the end of the world. In hand-to-hand combat, Hellboy often uses this right hand as a sledgehammer. While he appears to be vicious when working with his Bureau for Paranormal Research and Defense team, this hero like many others possesses weaknesses. He could not help seeing stray kittens making him to be caring around 55 homeless cats. He also has soft spot for ladies, especially his lover Liz, which generates problems for him in the sequel.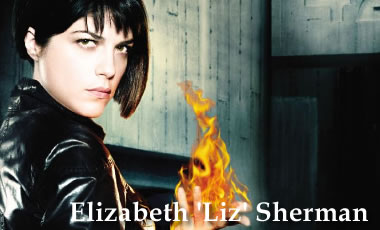 Played by
Cameron Diaz
's co-star in "The Sweetest Thing",
Selma Blair
, Liz is B.P.R.D.'s one troubled member. Possessing her pyrokinetic abilities at the tender age of 11 years old, she was left bitter and haunted by the fact that her inability to control her power resulting on the death of numerous people, including her family. She was brought in to the B.P.R.D. to learn controlling her ability, but often walked away from the Bureau. Having been able to manipulate fire in what ever way she wants doesn't cover up the fact that she doesn't allow anyone to get close to her heart until Hellboy steal it from her. In the new "Hellboy" movie, Liz is more in control of her blue fire and she will find herself to be in a more complicated relationship with Hellboy.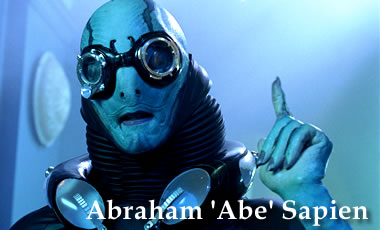 A highly intelligent underwater creature, Abe is B.P.R.D.'s third member. Living in an aquatic tank when he is not working with Hellboy to stop mystical creatures in destroying the world, he gets his name from a piece of paper attached to his tank. He possesses telepathic and psychometric ability. The latter allows him to see what happens in the past and what will happen in the future by only touching an object. In the movie version, this character played by
Doug Jones
is not able to live out of the water for a long period of time without his body suit which is equipped with a reverse aqua-lung. He loves eating rotten eggs, reading four books at the same time and trying to solve Rubik's cube.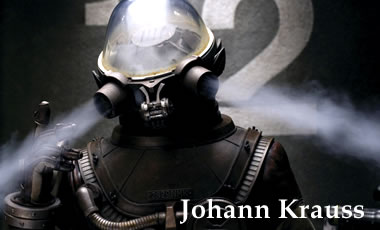 Johann Krauss is a newest member of Hellboy's B.P.R.D. team. He is an ectoplasmic spirit who maintains its human form using a containment suit with a glass fishbowl head. He is brought into the team after Hellboy messes up his cover while investigating a tooth fairies attack. Among the four super-powered members of the organization, Krauss is the one who always goes by the book and this attitude apparently annoys Hellboy the most. Though having a plus point in the fact that he can work 24/7 and requires no rest, Krauss can be considered to be the most vulnerable character in the team due to his ectoplasmic form. If his containment suit is breached, he ought to find a replacement suit as soon as possible. If not, he maybe lost forever.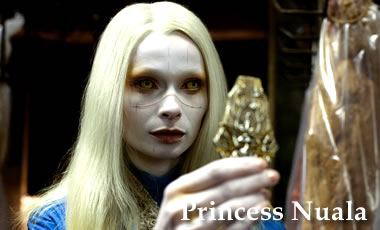 Nuala, the daughter of the Elves king, King Balor, is another new character to be introduced in the sequel. Basically, she is not a member of the B.P.R.D. team. Still, she is considered among the protagonist since like yin and yang which represent good and evil, Nuala's good nature opposed her evil twin brother, Prince Nuada. Also in possession of a piece of the divided crown that holds control over the golden army, she tries hard to stop him in destroying the human world. In this kindred elf princess played by
Anna Walton
, Abe finds the love of his life.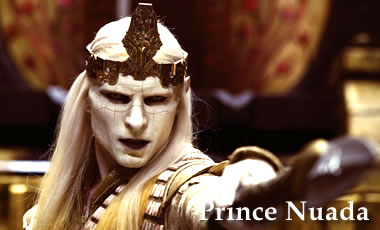 Not much has been shared about this villainous character, but the little details outed supposedly are enough to describe him. The main bad guy in "Hellboy II", Prince Nuada, kills his own father to materialize his dream of gaining power over the unstoppable golden army. Portrayed by Luke Goss, the wicked elf prince has been described to be having an incestuous feeling toward his twin sister. Though he is the exact opposite of Nuala, Nuada cannot be separated from her because they both share one secret bond.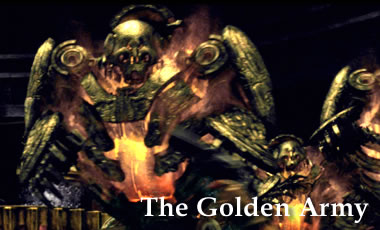 Serving to also be the center of the story, the Golden Army is a force to be reckoned by Hellboy and his team. Having no heart and soul, this band of indestructible army will destroy anything on their way. Built by the goblins after the human possessed by their greed attacked and slaughtered numerous magical creatures, the mechanical army know no hunger, pain or remorse which made them unstoppable.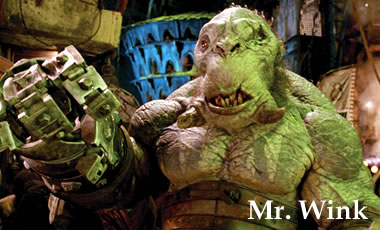 Aside from the Golden Army, another prominent creature giving Hellboy such a trouble is Mr. Wink. He is a giant cave troll whose size and figures resemble the red-skinned hero. Serving to be Nuada's sidekick, he has a giant right hand. Yet, unlike Hellboy's which is made from concrete, Wink's fist is made from metal. It can be detached and be used as a weapon since it can be shot out of his arm barrel. Though literally a few slot below the top chain of command, Wink isn't the brightest baddie Hellboy ever met.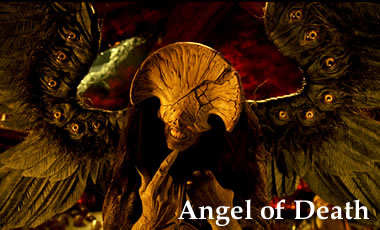 Though this character cannot 100% considered to be a creature, it still looks more of a mystical creature than a man. Coming from the dead realm of Bethmora, Angel of Death's head is an eyeless face with a vertical crack down its length. It has razor-sharp teeth and wings which if spread fully, exposed the creatures' eyes.
More creatures found in the movie :
The Chamberlain
Chamberlain is one of the amazing-looking creatures to be recognized in "Hellboy II". Though oddly-looking, this character has been described to be very elegant. Having a blobby head resembling a thumb with eyes, Chamberlain is nearly 8 feet tall. He has extended hands with elongated fingers. This creature is being portrayed by Abe's depicter, Jones.
Cathedral Head
The owner of a map shop in the Troll Market where Hellboy and Mr. Wink indeliberately exchange punches, Cathedral Head is another unique creature to be spotted. Its head is a giant church with stained glass windows. It is played by Brian Steele, the actor behind various monsters in different movies, such as the werewolf in "
Underworld
", Drake Creature in "
Blade: Trinity
" and second Tartutic in "
Lady in the Water
".
Fragglewump
Besides those two monsters, there is Fragglewump. It is a spider-like creature which has dozens of eyes. It is also brought to life by Steele who is also the man behind Mr. Wink.
Croney Troll
Considered to be the Troll Market's barber, Croney always holds a straight razor. Aside from the fact that it is also depicted by Steele, none other details have been shed about this creature.
Directed and scripted by Guillermo del Toro, "Hellboy II: The Golden Army" follows the adventure of Hellboy and his team as they travel between Earth and the mystical realm to stop Prince Nuada from unleashing the Golden Army. The Universal Pictures' flick is coming out this coming Friday on July 11 with "
Journey to the Center of the Earth 3D
" and "
Meet Dave
". Watch the
Trailers
!