About This Video
---
A clip/trailer of See No Evil 2
Tags
:
See No Evil 2
Type
: Movie Trailer
Views
: 247
This Movie Info
---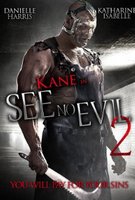 See No Evil 2
Release Date :
October 21, 2014 DVD
Studio :
Lionsgate Films
Director :
Sylvia Soska, Jen Soska
Starring :
Kane,
Danielle Harris
, Katharine Isabelle, Michael Eklund
A group of friends pays a late-night visit to the city morgue to surprise Amy (Harris) on her birthday. But the surprise is on them when the one-eyed corpse of brutal psychopath Jacob Goodnight (Jacobs) unexpectedly rises from a cold sub-basement slab. Their wild party quickly turns into a terrifying slay-fest as the sadistic mass-murderer resumes his savage rampage complete with hooks, surgical knives and power saws.