About This Video
---

A clip/trailer of '71
Tags
:
'71
Type
: Movie Trailer
Views
: 387
This Movie Info
---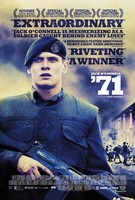 '71
Release Date :
February 27, 2015 Limited
Studio :
Roadside Attractions
Director :
Yann Demange
Starring :
Jack O'Connell
, Sean Harris, Sam Hazeldine, Sam Reid
1971, and the conflict in Northern Ireland is escalating towards civil war. Young English recruit Gary is called into action in Belfast. The situation in the city is confusing and challenging - even for experienced military commanders.
The town is divided into 'loyal' Protestant and 'hostile' Catholic areas. Both parties have paramilitary units; in addition, radical street gangs and undercover agents from all sides are trying to assert their interests on their own initiative. During a patrol, the soldiers become embroiled in a scuffle and one of them loses their weapon. Gary and a fellow soldier follow the thief who disappears into the crowd. Suddenly Gary is having to fend for himself alone in the midst of enemy territory. His journey back to his base that night is an odyssey filled with uncertainty, fear and desperation.
Director Yann Demange exposes the futility of war in which every act of violence only breeds more violence. An existentialist nocturne about hidden identities, creeping paranoia and those forced to take a stand. As the film progresses, it gradually breaks free from specifics to become a more universal anti-war parable.