About This Video
---
A clip/trailer of Come Back to Me
Tags
:
Come Back to Me
Type
: Movie Trailer
Views
: 209
This Movie Info
---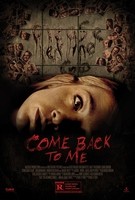 Come Back to Me
Release Date :
July 25, 2014 Limited
Studio :
Freestyle Releasing
Director :
Paul Leyden
Starring :
Matt Passmore
, Katie Walder, Nathan Keyes, Laura Gordon
Sarah & Josh are married suburbanites. After a car accident, Sarah suffers blackouts and ends up pregnant though Josh is sterile. As her life spirals she hides a camera in her home and unlocks a horrific secret with far-reaching consequences.