About This Video
---

A clip/trailer of The Cut
Tags
:
The Cut
Type
: Movie Trailer
Views
: 219
This Movie Info
---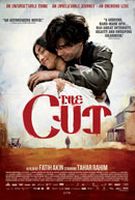 The Cut
Release Date :
September 18, 2014 Germany
Studio :
Pandora Filmproduktion
Director :
Fatih Akin
Starring :
Tahar Rahim, Akin Gazi, George Georgiou, Alejandro Rae
Mardin, 1915: One night, driving the Turkish Gendarmerie along all Armenian men. The young blacksmith Nazareth Manoogian is separated from his family. After he manages to survive the horror of the genocide, years later it reached the news that his twin daughters are alive. Owned rediscover the thought of her, he follows in their footsteps. They lead him from the deserts of Mesopotamia over Havana to the barren, lonely prairies of North Dakota. On his odyssey, he meets many different people, angelic and benevolent characters, but also the devil in human form.