About This Video
---

A clip/trailer of The Cut
Tags
:
The Cut
Type
: Movie Trailer
Views
: 383
This Movie Info
---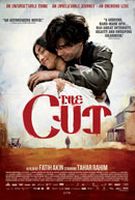 The Cut
Release Date :
September 18, 2015 Limited
Studio :
Strand Releasing
Director :
Fatih Akin
Starring :
Tahar Rahim, Akin Gazi, George Georgiou, Alejandro Rae
"The Cut" is Fatih Akin's epic drama about one man's journey through the Ottoman Empire after surviving the 1915 Armenian genocide. Deported from his home in Mardin, Nazareth (A Prophet's Tahar Rahim) moves onwards as a forced laborer. When he learns that his twin daughters may still be alive, his hope is revived and he travels to America, via Cuba, to find them.
His search takes him from the Mesopotamian deserts and Havana to the barren and desolate prairies of North Dakota. On this odyssey, he encounters a range of very different people: angelic and kind-hearted characters, but also the devil incarnate.