About This Video
---

This Movie Info
---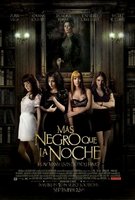 Mas Negro Que La Noche
Release Date :
September 26, 2014 Limited
Studio :
Pantelion Films
Director :
Henry Bedwell
Starring :
Zuria Vega, Adriana Louvier, Jose Maria Torre, Miguel Rodarte
An update of the legendary 1975 Mexican classic horror film, "Mas Negro Que La Noche" tells the story of Greta (Zuria Vega), a beautiful young woman whose eccentric aunt passes away leaving her a large, once opulent mansion. When Greta moves in with her friends (Jose Maria Torre, Miguel Rodarte, Adriana Louvier) she discovers that she must take care of her aunt's prized cat, Beker. The new residents take charge of the mansion, throwing wild parties and enjoying a fun filled summer until they lose track of Beker - who drowns in the mansion's pool. What was about to be the best summer of their lives quickly turns into a spine-chilling fight for their lives.