About This Video
---

A clip/trailer of Little England
Tags
:
Little England
Type
: Movie Trailer
Views
: 136
This Movie Info
---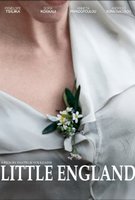 Little England
Release Date :
December 05, 2013 Greece
Studio :
Feelgood Entertainment
Director :
Pantelis Voulgaris
Starring :
Pinelopi Tsilika, Sofia Kokkali, Aneza Papadopoulou, Andreas Constantinou
A house, a secret, a man and two sisters. Orsa, who is 20 years old, is madly in love with navy lieutenant Spiros Maltambe. She is quite reticent and does not reveal her secret to anyone. Her younger sister, Mosha, is dynamic and full of dreams. She wants to leave Andros and escape the fate of the women of the island who marry sailors and then spend their lives alone because their husbands are constantly sailing. For their mother Mina, the wife of a sea captain who prefers the deck of the ship to his home, love means trouble and pain. He ignores the feelings of his daughters, plotting and taking advantage of his acquaintances at the same time, and makes them marry, following his interests. Orsa becomes the wife of shipping owner and captain Nikos Vatakouzis and Mosha of Spiros, who is now captain. The two young families occupy the two floors of the house that the mother has built with the money sent by her husband. Unconsciously, she puts a "bomb" in her own home.