About This Video
---

This Movie Info
---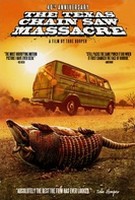 The Texas Chain Saw Massacre
Release Date :
June 21, 2014 Restored
Studio :
Dark Sky Films
Director :
Tobe Hooper
Starring :
Marilyn Burns, Paul A. Partain, Edwin Neal, Jim Siedow
A group of friends face a nightmare of torment at the hands of Leatherface and his depraved Texas clan. Tobe Hooper's cult classic remains the film that defined horror. Newly restored in honor of the film's 40th anniversary.