About This Video
---
This Movie Info
---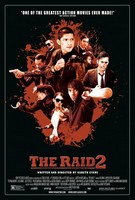 The Raid 2: Berandal
Release Date :
March 28, 2014 Limited
Studio :
Sony Pictures Classics
Director :
Gareth Evans
Starring :
Iko Uwais, Julie Estelle, Marsha Timothy, Yayan Ruhian
Immediately following the events of the original, "The Raid 2" tracks Officer Rama as he is pressured to join an anticorruption task force to guarantee protection for his wife and child. His mission is to get close to a new mob boss, Bangun, by befriending his incarcerated son, Uco. Rama must hunt for information linking Bangun with corruption in the Jakarta Police Department while pursuing a dangerous and personal vendetta that threatens to consume him and bring his mission-and the organized crime syndicate-down around him.