About This Video
---

A clip/trailer of Wolves
Tags
:
Wolves
Type
: Movie Trailer
Views
: 1740
This Movie Info
---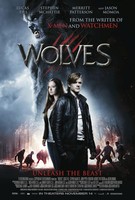 Wolves
Release Date :
November 14, 2014 Limited
Studio :
Ketchup Entertainment
Director :
David Hayter
Starring :
Lucas Till
,
Jason Momoa
, Merritt Patterson, Benedict Carver
Cayden Richards, 18, has it all: Captain of the high school football team straight-A student gorgeous girlfriend. But when he wakes one dark night to find his parents brutally murdered, he is horrified to realize that he is turning into an animal: a wild, savage wolf.
Panicked, Cayden runs, determined to find out what is happening to him. His quest leads him to the strange, isolated town of Lupine Ridge, where two clans of wolves are on the brink of war.
The opposing clans are lead by Connor, the powerful, pure-blood alpha of a savage pack and John Tollerman, an old farmer, committed to protecting the human citizens of Lupine Ridge.
But when Cayden falls for Angelina, the beautiful, young mate promised to Connor, a battle to the death is inevitable. And as the past begins to reveal itself, Cayden's place in the world becomes clearer -- As does his power to put an end to the savage violence building up around, and within him...