About This Video
---

A clip/trailer of Go for Sisters
Tags
:
Go for Sisters
Type
: Movie Trailer
Views
: 340
This Movie Info
---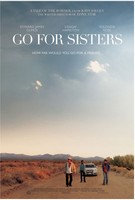 Go for Sisters
Release Date :
November 08, 2013 Limited
Studio :
Variance Films
Director :
John Sayles
Starring :
Edward James Olmos
, LisaGay Hamilton, Yolonda Ross, Hector Elizondo
Bernice Stokes and Fontayne Gamble grew up the closest of friends. After high school Bernice got into social services and corrections work, and Fontayne just got into trouble. Twenty years later Bernice is assigned as parole officer for Fontayne- just released from prison and fighting a drug habit. But Bernice's son Rodney has gone missing on the Mexican border, and his shady partners are in hiding or brutally murdered. Fontayne, through a prison girlfriend, enlists Freddy Suarez, a disgraced, near-blind ex-LAPD detective once known as 'the Terminator,' to help them find Rodney. Outlaws on a noble quest, they are lured into a potentially deadly cat-and-mouse game with mysterious Chinese smugglers.