About This Video
---

This Movie Info
---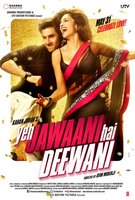 "Yeh Jawaani Hai Deewani" is a spirited cocktail of life about dreams, ambition, hope, disappointments, options, eagerness, fear, travel, the first day at work, sleepless nights, family, laughter, music, dance, friendship and love. It shows the journey of two different worlds Naina (Deepika Padukone) and Bunny (Ranbir Kapoor)and their crazy journey with an ultimate destination 'Love'.
Naina is a simple and hardworking girl while Bunny is a merry go round boy for whom life is all about being crazy. They meet each other to celebrate the weeding of ranbir's best friends Aditi (Kalki Kochin) and Avi (Aditya Roy kapoor).
It shows how two different worlds discover love and madness for each other.