About This Video
---

A clip/trailer of Nicky Deuce
Tags
:
Nicky Deuce
Type
: Movie Trailer
Views
: 194
This Movie Info
---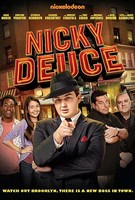 Nicky Deuce
Release Date :
May 27, 2013 TV Premiere
Studio :
Nickelodeon
Director :
Jonathan A. Rosenbaum
Starring :
Noah Munck, Cristine Prosperi, Cassius Crieghtney, Steve Schirripa
Based on the same-titled popular children's book by Steve Schirripa and Charles Fleming, the "Nicky Deuce" TV movie brings to life the story of Nicholas Borelli II, a nerdy, over-protected teen who gets caught in the adventure of a lifetime when his plans to attend math camp go awry and he is sent to spend the summer with an uncle he never knew he had (played by Schirripa) in Brooklyn, NY.
Nicholas is a fish out of water at first, but he leans on local kids to help him fit in, and through some hilarious mishaps, winds up mistakenly earning a reputation as a tough guy - transforming into the title character. When confronted with some questionable dealings, Nicky uncovers family secrets and learns that the tough streets of Brooklyn aren't always what they seem.