About This Video
---
This Movie Info
---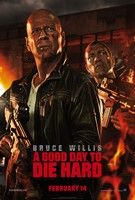 Bruce Willis is back as iconoclastic, take-no-prisoners cop John McClane, who for the first time finds himself on foreign soil after traveling to Moscow to help his wayward son Jack (Jai Courtney) - unaware that Jack is really a highly-trained CIA operative out to stop a nuclear weapons heist. With the Russian underworld in pursuit, and battling a countdown to war, the two McClanes discover their opposing methods make them unstoppable heroes.
Comments
---

dwayne bonello die hard 6 on july 28 2015 and die hard last film on july 19 2016 and are the same actor bruce willis, samuel l jackson these are actors of die hard and i will see it and i will give 5stars!
posted by

dwayne bonello

on Oct 31, 2012

dwayne bonello i love this movie and i love all the movies of die hard and i will give 5stars!
posted by

dwayne bonello

on Oct 30, 2012