About This Video
---
A clip/trailer of Winnie Mandela
Tags
:
Winnie Mandela
Type
: Movie Trailer
Views
: 735
This Movie Info
---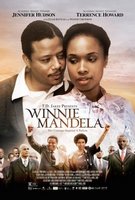 The story of Winnie Mandela - as she is simply known throughout the world - is remarkable.
From the 1960's to the 1980's, Winnie Mandela was widely admired as a symbol of the anti-apartheid struggle in South Africa. She suffered harsh reprisals for the beliefs of her husband, Nelson with whom she lived for only five weeks before he was imprisoned for the first time. During the later years of her husband's lifetime prison sentence, Winnie emerged as a leading opponent of the white minority rule government. Unfortunately, her reputation as a leader of the people was damaged by accusations of misconduct and by what many considered her bloodthirsty rhetoric. She was convicted of kidnapping and accessory to assault in connection with the death of a fourteen year old boy. Though her sentence was eventually reduced to a fine, and her tireless struggles on behalf of equality continued, world opinion of her has been very harsh
This story of "Winnie" focuses - not so much on the sometimes negative press she received - but on the very powerful love story that kept Winnie and Nelson Mandela together for years.
Winnie was working at Baragwanath Hospital as a social worker when she met the charismatic young lawyer, Nelson Mandela. It was love at first sight. Their passionate courtship was romantic as well as chaotic. Often interrupted by his own ambitious political intentions, Nelson was relentless in his pursuit of Winnie. In the early years of their marriage, she had to learn to survive on her own, as Nelson toured the country urging an anti-apartheid message, while building his legacy and the loyalty of millions. After Nelson's notable arrest and imprisonment in 1962, Winnie also became a political prisoner and was held in solitary confinement for nearly two years.
Very few people know about Winnie Mandela, her personal struggles and her tireless dedication to gain freedom from apartheid. She has been linked to murder and fraud, and portrayed as a serial adulterer. Her image often deliberately undermined by her enemies. What Nelson Mandela did was extraordinary, but there's no doubt South Africa would have been a vastly different place today without Winnie.