About This Video
---
This Movie Info
---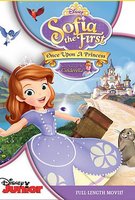 The adventures of Sofia (voiced by 'Modern Family's' Ariel Winter) as she adapts to becoming a princess after her mother, Queen Miranda (Sara Ramirez) weds King Roland II of Enchancia and gains an instant family in the form of twin step-siblings James and Amber (who is the eldest by seven minutes).
Enrolled at Royal Prep (with headmistresses Flora, Fauna and Merryweather), Sofia must learn what it takes to become a princess, all the while dealing with the jealousy of step-sister Amber, the evil-doings of the sorcerer Cedric (and his pet raven Wormwood) and keeping the secret that she can talk with animals thanks to the Amulet of Avalor presented to her by the King.
Inside the castle, Sofia's best friend is a rabbit named Clover (voiced by Wayne Brady) while her best friends she moved away from are Ruby and Jade.
Comments
---

dwayne bonello this animated movie by disney and i will see it and i love disney and i will this animated movie 5stars!
posted by

dwayne bonello

on Oct 07, 2012