About This Video
---
A clip/trailer of The Wedding Video
Tags
:
The Wedding Video
Type
: Movie Trailer
Views
: 944
This Movie Info
---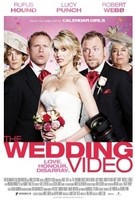 The Wedding Video
Release Date :
May 09, 2014 Limited
Studio :
Level 33 Entertainment
Director :
Nigel Cole
Starring :
Lucy Punch
, Rufus Hound, Robert Webb, Miriam Margolyes
Raif (Hound), a shambolic oaf with a unique sense of humour, is asked to be his brother Tim's (Webb) best man when he marries Saskia (Punch). To Raif's surprise, he finds his once-bohemian brother is marrying into Cheshire's most socially aspirant family. Saskia's grandmother, Patricia (Miriam Margolyes) would give Hyacinth Bucket a run for her money and mum Alex (Harriet Walker) has successfully married into life in the 'Cheshire Set' - the English 'Beverley Hills'.
Raif's present to the happy couple will be a video of their wedding. His film is our film - the final edited version with music, live action, interviews - the works.
Amidst the chaos of planning their big day and fending off unwanted help the couple begins to wonder 'whose wedding is it anyway?'