About This Video
---
A clip/trailer of High Road
Tags
:
High Road
Type
: Movie Trailer
Views
: 557
This Movie Info
---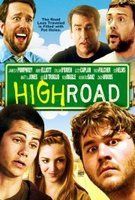 Glenn 'Fitz' Fitzgerald (James Pumphrey) is a young man caught in an unusuallove-triangle between his music, girlfriend Monica (Abby Elliot), and...sellingweed. A bohemian artist wanna-be, Fitz is obsessed with his own "triangle theory,"likely influenced by...weed. The theory basically describes that any three points,or persons, can make a triangle.
After the devastating news his band is breaking up, Fitz finds himself spendingmore time "dealing." This leads him to a "mentoring" opportunity of 16-year oldneighborhood kid, Jimmy (Dylan Obrien). The two hang in Fitz' garage all day,where Fitz doesn't have to face Monica's "work theory" which describes how anythree people they know have REAL JOBS! And, Jimmy doesn't have to face his hard-assfather James Malone Sr. "Malone" (Rob Riggle), who's threatening him with militaryschool.
When his ex-band mates Tommy (Zach Woods), Richie (Matt Jones), and Sheila (LizzyCaplan) start gaining success, Fitz cannot "deal," so he dedicates his time towriting a really bad rock opera, which of course is about his triangle theory.His dreams come to a halt when one of his "deals" goes awry, and he stupidlygoes "on the lam." This is bad timing for Monica, who is pregnant with Fitz'baby, and doesn't tell him. With her career getting a boost from her creepy bossBarry (Ed Helms) pressuring her to take it to the next level, she is torn betweenchasing down her pot-dealing boyfriend, who she loves, and following her career,which she needs.
After ditching his supplies, Fitz decides to head to Oakland to find his estrangedfather, Arnie. (Rich Fulcher). He runs into Jimmy who he reluctantly allows tojoin him, thinking maybe he can help with gas money. When Jimmy's father arrivesto put a stop to their trip, Fitz is startled (having no idea who he is), sohe knocks him out with a cowbell. Malone, not knowing Fitz, assumes Jimmy hasbeen kidnapped by him. So, he turns to his incredibly incompetent friend PeterFogerty (Joe LoTruglio), who runs the Police Academy gym, but fancies himselfas an expert detective. While trying to speak honestly Fogerty unnerves Malone,convincing him they only have 24-hours to find Jimmy or else he could be raped,killed, or diddled.
Distraught, Monica seeks out the advice of the ex-band mates, who are now ina White Stripes cover band. When she tells them the story, they convince herFitz will be a good dad and is worth it. With car chases, guns, broken bones,bent triangles, sassy cabbies, and a suspicious doctor (Horatio Sanz), they alllearn that "the road less traveled is filled with pot holes!"