About This Video
---
A clip/trailer of Project X
Tags
:
Project X
Type
: Movie Trailer
Views
: 872
This Movie Info
---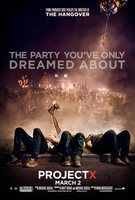 Project X
Release Date :
March 02, 2012
Studio :
Warner Bros. Pictures
Director :
Nima Nourizadeh
Starring :
Miles Teller
, Oliver Cooper, Jonathan Daniel Brown, Kirby Bliss Blanton
"Project X" follows three seemingly anonymous high school seniors as they attempt to finally make a name for themselves. Their idea is innocent enough: let's throw a party that no one will forget... but nothing could prepare them for this party. Word spreads quickly as dreams are ruined, records are blemished and legends are born. "Project X" is a warning to parents and police everywhere.