About This Video
---
This Movie Info
---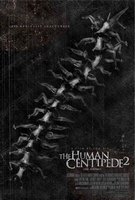 The Human Centipede II
Release Date :
October 07, 2011 Limited
Studio :
IFC Films
Director :
Tom Six
Starring :
Ashlynn Yennie, Laurence R. Harvey, Dominic Borrelli, Georgia Goodrick
The story of a man who becomes sexually obsessed with a DVD recording of the first film in the series," The Human Centipede", and uses sandpaper to pleasure himself whilst watching the film. He decides to create a "human centipede" of his own, this time comprised of twelve victims as opposed to the first film's three. He uses his human centipede to his own sexual delight, taking sexual pleasure in watching the victims of the centipede defecate in each other's mouths, and using barbed wire wrapped around around his penis to rape the woman at the end of the centipede.