About This Video
---
A clip/trailer of Higher Ground
Tags
:
Higher Ground
Type
: Movie Trailer
Views
: 376
This Movie Info
---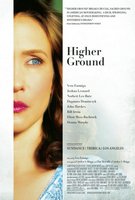 Vera Farmiga's directorial debut, "Higher Ground", is a coming-of-age drama in which Farmiga delivers a subtle, nuanced performance completely from the gut, with equally strong and compelling supporting characters.
Set against the backdrop of the Sixties, when feminism reached its zenith, the film expertly depicts the landscape of a tight-knit spiritual community. Inspired by the resonant memoir from Carolyn Briggs (who also wrote the screenplay) the film is an exquisite study of one woman's internal struggle with the primary love relationships in her life.
John Hawkes, Donna Murphy, Bill Irwin, Dagmara Dominczyk, and Joshua Leonard round out the cast, along with Farmiga's younger sister Taissa, who proves herself to be an extraordinary new talent as Young Corinne.