About This Video
---
A clip/trailer of The Perfect Family
Tags
:
The Perfect Family
Type
: Movie Trailer
Views
: 1906
This Movie Info
---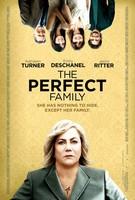 A devoutly Catholic wife and mother (Turner), who has been nominated for one of the church's top awards. She goes about trying to prove she has the "perfect" family, refusing to accept them for who they are.
Deschanel plays the daughter, a successful lawyer who is a lesbian. The daughter, who is five months pregnant, struggles when it comes time to telling her mother the truth.
Meanwhile, the son (Ritter) has just left his wife for an older woman, while the husband (McGrady) is a recovering alcholic. Chamberlain plays the monsignor.