About This Video
---
A clip/trailer of Cougar Hunting
Tags
:
Cougar Hunting
Type
: Movie Trailer
Views
: 1310
This Movie Info
---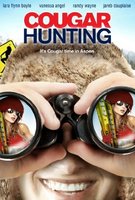 Cougar Hunting
Release Date :
April 08, 2011 Limited
Studio :
Screen Media Ventures
Director :
Robin Blazak
Starring :
Matt Prokop, Randy Wayne, Jillian Murray, Vanessa Angel
Tired of their failed or non-existent relationships with girls their own age, three post-college boys are urged by a friend to visit Aspen, Colorado, a prime hunting ground for rich and hungry cougars -- beautiful, successful sexy older women who prey on hot young guys.
The boys hope in Aspen they'll be able to start with clean slates, new reputations, and the proverbially golden paved streets of amorous, sensual, wealthy older woman. Instead, what they find is an unexpected series of experiences with an eclectic assortment of women who teach them a few things about sex, love, and relationships.