About This Video
---

A clip/trailer of Sir Billi
Tags
:
Sir Billi
Type
: Movie Trailer
Views
: 1223
This Movie Info
---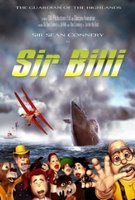 Sir Billi
Release Date :
September 13, 2013 UK
Studio :
Kaleidoscope Film Distribution
Director :
Sascha Hartmann
Starring :
Sean Connery
,
Alan Cumming
, Shirley Bassey, Miriam Margolyes
When tragedy strikes in the Highlands, there can be only one man for the job - Sir William Sedgewick, aka Sir Billi (Sir Sean Connery)!
This is an adventure story about an inimitable Highland hero - a grandpa. As active senior skateboarding veterinarian he goes above and beyond the call of duty fighting villainous policemen and powerful lairds in a battle to save an illegal fugitive - Bessie Boo the beaver!
A roller coaster adventure, Sir Billi braves treacherous ravines and hazardous gullies with his sidekick Gordon the Goat (Alan Cumming) to save Bessie Boo and Wee Dave the rabbit as they hurtle down a perilous river.
A heart-warming & hilarious action packed family movie, where thrilling car chases, heroic skydiving and daring stunts from this octogenarian spurred on by encounters with a hostile submarine, will keep you at the edge of your seat!
Behind the eccentric austere of this tartan plaid overall-attired widower, he reveals a compassionate spirit with his unrivalled love for his late wife. Is it too late for this endearing grandpa to find new lady friend once again? Will Lady Serena, his daughter and grandson Jake even contemplate such a development from this adored Celt? Amongst it all in this race against time, will Sir Billi get to Bessie Boo first?
Explore the powerful force of this international Highland community, with its unrivalled landscapes, breathtaking scenery and hidden secrets. Discover the power of the local people when they unite as one against evil and embark on an expedition like no other.
Sir Billi delivers the charm and panache that one would expect of a true Highlander. As thee Guardian of the Highlands, everyone will want a grandpa like Sir Billi!
Comments
---

dwayne bonello this animated movie and will not see it animated movie by sean connery and i give this animated movie 1stars!
posted by

dwayne bonello

on May 23, 2012