About This Video
---
Behind the scene of Knight & Day
Tags
:
Knight & Day
Type
: Behind the Scene Video
Views
: 694
This Movie Info
---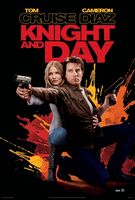 In the action-comedy "Knight & Day", Tom Cruise is a covert agent and Cameron Diaz is a woman caught between him and those he claims set him up. As their globetrotting adventure erupts into a maze of double-crosses, close escapes, false identities, and head-spinning romantic snafus, they come to realize that all they can count on is each other.
Twentieth Century Fox and Regency Enterprises present a Pink Machine / Todd Garner/ Tree/Line Film production, a film by James Mangold (Walk The Line, 3:10 To Yuma), starring Tom Cruise and Cameron Diaz, Knight And Day. The film also stars Peter Sarsgaard, Viola Davis, Jordi Molla and Paul Dano.