About This Video
---

This Movie Info
---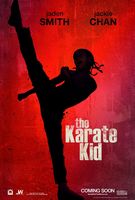 In Columbia Pictures' The Karate Kid, 12-year-old Dre Parker (Jaden Smith) could've been the most popular kid in Detroit, but his mother's (Taraji P. Henson) latest career move has landed him in China. Dre immediately falls for his classmate Mei Ying - and the feeling is mutual - but culture differences make such a friendship impossible. Even worse, dre's feelings make an enemy of the class bully, Cheng. In the land of kung fu, Dre knows only a little karate, and Cheng puts 'the karate kids' on the floor with ease. With no friends in a strange land, Dre has nowhere to turn but maintenance man Mr. Han (Jackie Chan), who is secretly a master of kung fu. As Han teaches Dre that kung fu is not about punches and parries, but maturity and calm, Dre realizes that facing down the bullies will be the fight of his life.
Comments
---

I love this song
posted by

Any shegav

on Jan 29, 2012

very good
posted by

nurulloh

on Dec 05, 2011

love it
posted by

ria

on Sep 26, 2011

i like this movie very much
posted by

dhiren

on Aug 19, 2011

this song is amazing and savage
posted by

jusitn bieber

on Apr 11, 2011

when I look at you justin bieber !!!!!!
posted by

lyra

on Nov 11, 2010

Oooh lala. Wow. Jaden unabamba 2 xanar
posted by

Bella oti

on Oct 15, 2010

Its okk @n it a great movie
posted by

Karate

on Sep 17, 2010

this is the best one ever
posted by

justin246

on Sep 13, 2010
Good job JB
posted by

Bella nadila

on Sep 06, 2010

luv JB and JS is lyke sooooooooooooooooooo kute!!!
posted by

Puppylover10041999

on Aug 01, 2010

Ohmigosh!..Um dyn justn..U mk g crzi evrtym wn i c u on tv or hear ur msc...Oh mi wrd n dat vdeo wt u n jaden whoa datz pumpin hot!!..N man justn u cn jerk..U 2 jadn i lv u ol..U knw wt mi bf brk up wt m cuz um crzi bwt u...Js wsh dat 1dae i culd mit u..I Ǫl
posted by

Wana b justnz gal 1d

on Jul 31, 2010

Love This Video,, You Both Are GGGRRREEEAAATTT,, Love The Song Bog Thumb's Up From Me :) xxxx
posted by

Leah Rose Britton

on Jul 17, 2010

i love jaden smith
posted by

daisha

on Jul 08, 2010
i luv this song,perfectly and 2 thumbs up!!!jaden ur gud hild actor like ur father also keep up the gud work baby!nice movie of the year with jackie chan nice....
posted by

snopy_avery

on Jul 07, 2010

nice song... not much of a bieber fan but i must say this one's good! i wished jaden had more lines though...
posted by

karatekiddo

on Jun 29, 2010

I LOVE THIS SONG
posted by

OMG

on Jun 27, 2010
I love all your songs guys, you impressed me from Nigeria.
posted by

DEWhy Hybreed

on Jun 23, 2010

ilove u jaden and justin OMG
posted by

lashay50

on Jun 21, 2010

baby i love dis song;]
posted by

justins gf

on Jun 21, 2010

It was alright IM being real i have nothing bad to say onast truth peace out
posted by

Rayray

on Jun 17, 2010

i luv u guys and ur music video plz continue 2 make more songs
posted by

justin&jadenluva

on Jun 16, 2010

I wanna say jaden hassuch a glow and I see him in aworld of glow...,love your mom.dad,sis and big brother the future bright thank yooouw.
posted by

mommie

on Jun 11, 2010

AMAZING i love this song, and justin bieber <3
posted by

bieberloove

on Jun 09, 2010

OMG!!!!! i love this song!!!!!!!
posted by

ilooveyou

on Jun 09, 2010

omg best song eva!
posted by

Becksss luvs yah

on Jun 08, 2010

i love this song
posted by

dfdgr

on Jun 07, 2010

justin ie sooo cute i lick it:X:X and his song came from my heart.......i love you justin
posted by

fanJB

on Jun 06, 2010

omg I didnt know he waz that hot lol
posted by

hottie01

on Jun 03, 2010
OMG!!!! love tih song ........
posted by

beaaaaaaaaa

on Jun 03, 2010

omg!! i love this song! this video everything its the best!! and jay smith is such a little cutie and I LOVE JUSTIN BIEBER! the hot babe! hahah well i love this song hahah illlly to the ppl reading this haha! :P
posted by

kimmmmmmy

on Jun 02, 2010

i really liked it justin was hot, did u know that was will smith's boy????
posted by

bieberfevergirl

on Jun 01, 2010

this video was great and i love u justin bieber the only reason it was a four is because i like how justin think Jaden can mess with him
posted by

mercedes hansen

on Jun 01, 2010

i loved this video and jaden was amzing he is so little and little justin is great like in every other video so keep up the good work JUSTIN BIEBER aka JB and Jaden Smith
posted by

keirstin ward

on Jun 01, 2010

very good me parece muy bonito q los dos aygan echo un duo justin y jaden smith q bacan
posted by

sheyla

on Jun 01, 2010

Great vid
posted by

James

on Jun 01, 2010

Hey Aceshowbiz, Thanks for always supporting me and Thanks for posting my awesome new vid feat. Jaden. Thank-You to all the fans aswell. God Bless Justin. :)
posted by

JustinBieber

on May 31, 2010

I will not miss this movie, I love JB and also Jaden he will be great like his father
posted by

Jookjik

on May 31, 2010

great song...JB is straight fuego! lol...and jaden is so cute...i luv how they were jerkin ahah...cant wit 4 the movie...song def goin on my pre-game playlist =)
posted by

that sourpatch kid

on May 31, 2010