About This Video
---

A clip/trailer of Step Up 3-D
Tags
:
Step Up 3-D
Type
: Movie Trailer
Views
: 17174
This Movie Info
---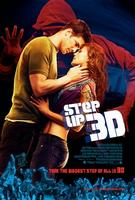 New York's intense street dancing underground comes alive in eye-popping Digital 3D in the third installment of the "Step Up" franchise as the raw, passion-fueled culture goes global. A tight-knit group of street dancers, including Luke (Rick Malambri) and Natalie (Sharni Vinson), team up with NYU freshman Moose (Adam Sevani), and find themselves pitted against the world's best breakdancers in a high-stakes showdown that will change their lives forever.
Comments
---

dwayne bonello i hate this movie and i not see and its terrible and igive 1stars!
posted by

dwayne bonello

on Oct 15, 2012

that is so awesome the guy is so hot!
posted by

sunshine

on Aug 30, 2010

This is the best dance trailer i've ever seen. The ost's are hawt! especially the end
posted by

Jay

on Jul 11, 2010

most sexiest trailer i hv evr seen till date
posted by

sivom

on Jul 05, 2010
what ix the name of the songs in the trailr from 0:00 to 0:33
posted by

3d dah

on May 29, 2010