About This Video
---
This Movie Info
---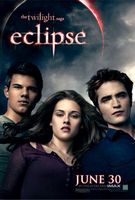 In "The Twilight Saga's Eclipse", Bella once again finds herself surrounded by danger as Seattle is ravaged by a string of mysterious killings and a malicious vampire continues her quest for revenge. In the midst of it all, she is forced to choose between Edward and Jacob - knowing that her decision has the potential to ignite the struggle between vampire and werewolf. With her graduation quickly approaching, Bella is confronted with the most important decision of her life.
Comments
---

dwayne bonello i love this movie and i love all the movies twilight 1,2 and even this movie and i will give 5stars!
posted by

dwayne bonello

on Oct 09, 2012

luv it cant wait 2 see it
posted by

twighlight luvr

on Jul 18, 2010

i'm soooooooooooooo excited ...cant wait!!!!!!!!!!!!!! WHO IS THAT DUMB ASS THAT SAID IT WAS BORING??? NO WONDER U DIDNT PUT UP A NAME...HV U LOOKED IN A MIRROR LATELY ASSHOLE????????????
posted by

kay

on May 09, 2010

i love this movie<< hope you got more awards in this movies
posted by

mary

on Apr 30, 2010

I love twilight,new moon,eclipse and breaking dawn but i mostyly like every show you have
posted by

Tayla

on Apr 23, 2010

CANNNTT WAIITTT OMGGGGGG COUNTING THE DAYZ!!!
posted by

TWILIGHT FAN

on Apr 22, 2010

boooooooring
posted by

None

on Apr 21, 2010
best movie of the year
posted by

princesss

on Apr 16, 2010

cant wait
posted by

una de las millones

on Apr 09, 2010

i cant wait to see the movie if its like the rest of the others movies then it will be the best and i really wait until it cums out this will be the best
posted by

sonia

on Apr 08, 2010

the movie will be the best and also be the number one all over the world and am in love with edward he is so fine and all the rest are very good i love u all
posted by

sonia

on Apr 08, 2010
sweet cnt wait
posted by

wolf girl

on Apr 07, 2010

twlight... brilliant, nw moon not s great as the first film.. books are brill i have fnished them all cant wait for the films. i hope she writes more would be great to see what happens next.
posted by

clair

on Apr 07, 2010

I agree the books are way better.. but the first movie wasn't to bad, New Moon wasn't to good so i really hope Eclipse lives up to the previews because it was my FAVORITE book!
posted by

Kris

on Mar 26, 2010

the books are a whole lot better. of course more detail. i didnt like the second movie that much, i hope eclipse is better. i mainly want to see the fighting scene between wolves/vamps vs vamps... hopefully that will be good.
posted by

mayne

on Mar 18, 2010

I have read the book the twilight saga eclipse and i really enjoyed it im am now reading breaking dawn and I am looking forward to seeing the second and third film hope they are as good as the books cant wait to see what happen s , at the end of breaking dawn not know what to do with myself when i finish this one .big fan thank s to steph hope there s more to come x
posted by

di

on Mar 15, 2010

CANT WAIT
posted by

ruby

on Mar 12, 2010