About This Video
---

A clip/trailer of A Kiss of Chaos
Tags
:
A Kiss of Chaos
Type
: Movie Trailer
Views
: 2022
This Movie Info
---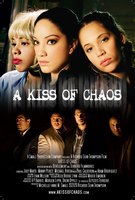 A Kiss of Chaos
Release Date :
February 21, 2010 Soho FF
Studio :
A Small Production Company
Director :
Ricardo Sean Thompson
Starring :
Judy Marte, Manny Perez, Michael Rivera,
Adam Rodriguez
Phoenix (Judy Marte 'Raising Victor Vargas', 'On the Outs') is an early twenties, struggling artist, attempting to keep her former crisis of a life normal. Her alcoholic mother was murdered in front of her, while holding her younger sister Isis (Gleendilys Inoa 'Don't Let Me Drown'), on Phoenix's seventh birthday. This was after her father's body was discovered in the Hudson River earlier that morning. Since then not much in her life has gone right. Not willing to be forever haunted by her past, she's moved back into her childhood apartment and has created some semblance of normalcy.
Phoenix's new life is interrupted when Angel (Michael Rivera 'A Guide to Recognizing your Saints'), her corrupt ex-boyfriend, lands in her living room, via the kitchen window, recently shot in the leg after stealing five kilos of cocaine. Angel lies to Phoenix as to the circumstances around him having the cocaine, however, she is uninterested in how he got the drugs, and she's familiar with the "Angel Equation". Angel plus drugs equals trouble, she gives him until the following day to "Get Out"!
The very next day, Isis arrives, after one of her schizophrenic episodes causes her to leave the hospital where she is supposedly receiving HIV treatment, to return to a life on the streets where she turns tricks to make ends meet. However Isis can't help but create chaos where ever she is and when her tricking gets tricky she calls her big sister Phoenix to clean up her mess. Unfortunately, Isis, even if she could help herself, would love nothing better than to disrupt the life of the person she envies' most, Phoenix. The only solace for Phoenix is her close friendship with Tiffany (Stephanie Ortiz 'aka Dulce: La Calle 105.9').
Tiffany would do anything for Phoenix. She would like to be more than friends, something Phoenix has ambivalent feelings about, but she'd never turn her back on her best friend. After Angel arrives Tiffany devises a plan to unload Angel and his five kilos of cocaine. Tiffany, unknown to Phoenix, enlists her brother Tony (Manny Perez, 'El Cantante', 'Bella'), to help them unload the drugs.
Tony knows that the five kilos of cocaine that Tiffany wants him to find a home for are the same five kilos he was asked to find by Freddie (Adam Rodriguez 'Miami CSI'), the Body Guard of a notorious Drug Boss, Demetrius (Michael Kenneth Williams 'HBO The Wire'), whom Freddie originally stole the 5 kilos from prior to Angel stealing it from him. Freddie's offer is not as attractive as Tiffany's but, Tiffany's offer doesn't end with being killed as the downside. Since Tony has already made the connection to the missing five kilos of cocaine through Tiffany, Tony knows Angel is somewhere nearby. He'd bet his life that somehow the girl his sister is in love with is involved in Tiffany's scheme. Although Tiffany thinks she is in control, Tony is never one to let his sister have the upper hand. How does he make Tiffany tell him where Angel is? Get to Phoenix!