About This Video
---

This Movie Info
---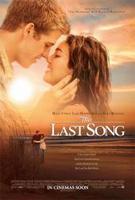 Based on best-selling novelist Nicholas Sparks' ("A Walk to Remember," "The Notebook") latest novel, THE LAST SONG is set in a small Southern beach town where an estranged father (GREG KINNEAR) gets a chance to spend the summer with his reluctant teenaged daughter (MILEY CYRUS), who'd rather be home in New York. He tries to reconnect with her through the only thing they have in common-music-in a story of family, friendship, secrets and salvation, along with first loves and second chances. The film is directed by Julie Anne Robinson from a screenplay by Sparks & Jeff Van Wie.
Comments
---

shes great in everything she do. go miley!!!!!!
posted by

orchids57

on Mar 06, 2010

Miley is such a natural-singer, actress, you name it. She is so lucky!
posted by

myownmom

on Feb 28, 2010

the story line looks good. but since miley's in it. don't think I'm going to watch it. I am clearly not a big fan of hers. she's sooo icky.
posted by

blah.

on Feb 22, 2010

:D me likey
posted by

Tine

on Feb 21, 2010

miley is WAYYY better than taylor swift1!!! :P :D
posted by

pieromonky

on Feb 21, 2010
heyyyyyyyyyy
posted by

seda a.

on Feb 21, 2010

miley is amazing. i cant wait to see her in this movie. i hope good things keep coming her way. love her voice.
posted by

mariana

on Feb 20, 2010

miley sings really good and i hope best for her in the future
posted by

sara

on Feb 20, 2010

I watched this bc my daughter wanted to. Didn't think that I would like it so much!!!
posted by

lavenderbutterfly716

on Feb 20, 2010

love this!
posted by

ponsie

on Feb 20, 2010
you are hot and sexy jaden susan
posted by

jaden

on Feb 20, 2010

Ohh!!! How amazing:)I love this song so much and I can't wait to see this movie! Miley you're my favorite pop star..Way to go!!!You Rock!)
posted by

Davidmiley

on Feb 20, 2010

Love it!
posted by

hoppincin

on Feb 20, 2010

i think that miley cyrus is better that taylor swift.
posted by

taylor swift

on Feb 20, 2010

I can't wait for this movie.. I personally am not a huge fan of miley's but this movie seems interesting just because it's nicholas sparks.. I didn't think I would like this song because it's REALLY good! :)
posted by

Kelly

on Feb 20, 2010