About This Video
---
This Movie Info
---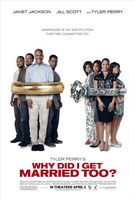 Reuniting the same charismatic cast and characters from his hit comedy/drama, "Why Did I Get Married", Tyler Perry brings us the next chapter in the lives of eight college friends struggling with the challenges of marital life in "Why Did I Get Married Too".
Gathered together in the Bahamas for their annual one-week reunion, four close couples eagerly reconnect, sharing news about their lives and relationships. But their intimate week in paradise is disrupted by the unexpected arrival of Sheila's ex-husband, Mike, who hopes to break up her new marriage with Troy and win her back. The others soon realize they too are not immune to the challenges of commitment and fidelity. Angela doesn't believe her husband, Marcus, can be faithful now that he's a celebrity television newscaster. Dianne and Terry's relationship is feeling the strain of raising children. And Patricia, a successful self-help psychologist, must finally reveal the deep flaws in her seemingly perfect marriage to Gavin. With their relationships hanging in the balance when they return home, each couple must choose between blame and forgiveness, doubt and faith, with life-altering consequences...
Comments
---

I must state that I am ecstatic to watch this movie, I love part 1 and looking forward to see part 2. Good work Tyler.
posted by

nat

on Mar 26, 2010

I can't wait to see this, it seems to have all the drama, love, and suspense one could ask for. I'll go see this one by myself if I have to!
posted by

mamahillx4

on Feb 21, 2010

Man I cant wait to see this..Tyler I think you have out done yourself this time...
posted by

Sweetthang204

on Jan 30, 2010

can't wait 2 see that fine TROY
posted by

mrsrucker09

on Nov 28, 2009

This is going to be wild... hope it's even better than the first one... Can't wait!! :-)
posted by

sumoore

on Nov 20, 2009

Can't wait to see this movie. First one is one of my favs. Hope this one does not disappoint. Looks good. Hate that I have to wait til april.
posted by

fjack

on Nov 12, 2009

I can't miss out on this one !!
posted by

lasowilliams

on Nov 11, 2009